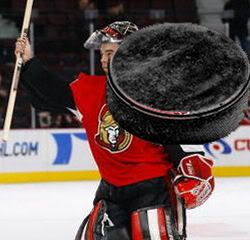 Some guys just have no luck.
Ottawa Senators goalie Pascal Leclaire is no stranger to injury - the 27-year-old was limited to less than 25 games because of a leg injury in his first year as a starter in Columbus, then after a career year with the Jackets, he was sidelined for most of last season with an ankle injury, clearing the way for the rise of rookie Steve Mason.
Last March Leclaire was dealt to the Senators, looking for a fresh start with a team looking for a number one goalie. Through the first two and a half months of this season, he posted an 8-5-1 record with pretty average stats, but at least he's healthy right?
On Monday night, the Sens came from behind to beat the Washington Capitals 4-3 in overtime, but they lost Leclaire for about a month with a fractured cheekbone.
How does a goalie break his cheekbone
, you ask?
Well, he was minding his own business on the bench - taking the night off to heal up from a lower-body injury he suffered in Saturday's loss to the Sabres - when an attempted dump-in by one of his teammates hit a stick and flew into the Ottawa bench,
smoking him in the face
.
Leclaire says he was just sitting there chatting with one of the team trainers and didn't even see it coming, describing the pain, saying "it hit me like a baseball bat."
Is that bad luck, or is that bad luck?