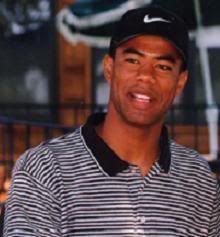 ...Tiger Woods impersonator. As promised, here's the second story that caught my eye featuring Tiger Woods this week:
After stumbling upon this earlier this week, it's now clear to me that no one has been hurt more in the wake of the Tiger Woods controversy than impersonator Canh Oxelson; well, except maybe Woods himself, his wife Elin and the rest of his family.
But don't forget Oxelson, an educator from Los Angeles, California, who boasts an "almost identical body type," "wonderfully similar ethnic background" to Woods and proudly claims on his website,
TigersDouble.com
, to be the only look-alike to appear in a commercial with the superstar.
Oxelson told
CNBC's
Darren Rovell this week that since all this Tiger Woods controversy, the market for a look-alike has pretty much dried up, with several contracts pulled off the table.
"I was supposed to be a stand-in for a commercial a week after this all came out and that never came to fruition,"
Oxelson told Rovell.
My question is, what company was about to cheap out and only use a stand-in? I know the effects of the recession are still being felt across the business world...but come on!
Now that things have slowed down on the impersonator front, has Oxelson thought about "standing-in" for Tiger on the tour? Doubt it - his website is quick to point out that he's a look-alike, not a play-alike. How about cashing in on the market for Tiger Woods parodies? Nope.
"I don't want to be piling on the guy,"
he told CNBC.
He won't make fun of Woods, but he'll pretend to BE Woods at your corporate outing, pose for pictures at your golf tournament, "liven up" your company's booth at a convention or trade show, or make a cameo appearance at your birthday or retirement party. If he's good enough for Oprah (yeah, he's actually been on Oprah), he's good enough for you!
Here's what I think: Tiger Woods should have taken Shaggy's advice, said "It wasn't me" and paid off Oxelson to say that all those alleged mistresses had actually been fooling around with his body double. It wouldn't have worked, obviously, but it would have been an awesome thing to try.