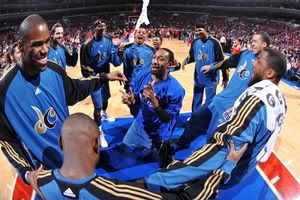 Well, at least Gilbert Arenas now knows that NBA commissioner David Stern can't take a joke.
Trial and error may not have been the best way for the Wizards guard to learn that lesson though, as he's been suspended indefinitely by the league (costing him about $147,000 per game, incase you're wondering).
What did "Agent Zero" do to make Stern so mad?
It all started on December 21st, when reports surfaced about a locker-room confrontation between Arenas and injured teammate Javaris Crittenton over a gambling debt.

NBC reports
the argument that started during a card game on the team's flight back to Washington from Phoenix on the Saturday carried over into the locker room on Monday before practice and ended with guns being drawn.
They claim that Arenas put four unloaded weapons in Crittenton's cubicle with a note that said "Pick One," something he says he did as a joke. Two first-hand accounts of the incident say Crittenton then pulled out his own gun, loaded it and cocked it – a claim the player and his agent denies.

Whatever happened that morning, Arenas has admitted to storing his guns in the locker room (so they wouldn't be in his house with his kids) and is now being investigated by local and federal police.
The Commish had initially said that he would wait until the investigations were over before taking any action, but it seems like Gilbert just couldn't wait to be punished.
Why do I say that?

Well, if you got in trouble at work for something like this and you were under investigation, would you let your boss see you making guns with your hands and pretending to "shoot" your teammates?

Didn't think so.

According to ESPN, the league was furious about some of the things Arenas was saying on his Twitter page and to reporters, making light of the situation. Looks like his actions on Tuesday night were just the last straw; here's part of Stern's statement the next day:
"Although it is clear that the actions of Mr. Arenas will ultimately result in a substantial suspension, and perhaps worse, his ongoing conduct has led me to conclude that he is not currently fit to take the court in an NBA game."
This is just another potentially large roadblock for Arenas, who has missed huge amounts of action since the end of the 2006-07 season. He needed serious surgery on his left knee that April, and in the next year and a half had to undergo two more operations on the same knee limiting him to just 15 games in the past two seasons.
He was finally healthy coming into this year and has played well – but who knows how long this suspension could last.
Is the league overreacting? Will Gilbert Arenas ever play another full season again? Can things get any worse for the Wizards?

Hey, at least he didn't wind up in jail for shooting himself in the leg!