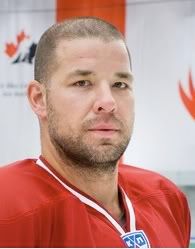 If you thought Allen Iverson making the
NBA All-Star team
as a starter despite playing in less than half of his team's games this season was a bit silly, wait 'til you get a load of this:
According to
RussianHockeyFans.com
, Chris Simon (yes
that
Chris Simon) has been added to the Kontinental Hockey League's All-Star roster.
The KHL uses a similar format to the American Hockey League's Canada vs. PlanetUSA format – Team Yashin is made up of Russian stars, while the "international stars" will suit up for Team Jagr.

Yes, KHL journalists have done something no one else ever has – they've labeled Chris Simon an
international star.
Wow. Not only that, but the soon-to-be 38-year-old who was suspended for a
total of 70 games
during his 15-year NHL career will be on Team Jagr's second line!
I never thought I would hear Simon mentioned in the same breath as Sergei Fedorov, but I guess things are different over in Russia.

It wasn't quite a
Mikael Samuelsson style
reaction, but when Zubov found out that he was being added to the Russian Olympic squad as a substitute it's safe to say he wasn't impressed.
The 17-year NHL veteran, who decided to play in the KHL last season, called being named a sub a "complete humiliation of me as a person and a sportsman" and a "spit in my face."