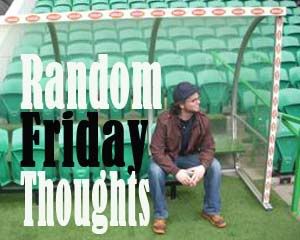 Capital M-V-P
They may not have won the Golden Baseball League title this season, but Edmonton Capitals first baseman Cliff Brumbaugh is the toast of the league after taking home
MVP honors
this week.
The 35-year-old belted 23 homers into various sets of bleachers during the 2010 season, drove in 90 runs and batted a whopping .383. He also won this year's home run derby during all-star weekend.
Interesting Brumbaugh fact of the moment: He won Korean Baseball Organization championships in 2003 and 2004 with the Hyundai Unicorns.
The Price isn't Right
Toronto FC's playoff hopes were dealt another blow last weekend in a 3-2 loss to the San Jose Earthquakes, but since last Saturday the focus has been on one player: Dwayne De Rosario.
After a beautifully hit chip over the SJ goalie and into the top corner, the TFC captain made headlines with a post-goal celebration that differed from his trademark "shuffle" – instead he walked to the sideline and pretended to sign a cheque.
When confronted about the gesture after the game, De Rosario confirmed that the point he was trying to get across is that he wants more money.
According to
CBC Sports
the Ontario native, who leads the team in scoring with 12 goals, is halfway through a four-year deal that is paying him $443,750 this season. That pales in comparison to the money being paid to the team's 'designated players' Julian de Guzman, who is earning about $1.7-million, and Spanish forward Mista who makes just over $987,000.
I know a lot of people are saying
negative things
about De Rosario, but we're talking about a two-time MLS Cup winner and Most Valuable Player (only player to win MVP twice), a four-time all star (MLS Best XI), and a guy who is just outside the top 10 on the all-time goal scoring list (74 goals, 51 assists in 239 games). Not to mention the fact that he's a Canadian superstar (at least in terms of the MLS) playing in Canada.
I can see why he's upset at not being the highest paid player on the team. A guy with that amount of experience and success is great for Canadian soccer, never mind the MLS.
Did he go about expressing his feeling on the matter the right away? Probably not.
I think we can all agree though – that goal was sick with a capital DERO.
Goalie Fail X2
While we're talking soccer – I feel obliged to include the following video clips in this blog, because…well…you'll see.
The brilliantly well-done blog at
The Score
first brought FAR Rabat goalkeeper Khalid Askri to my attention a few weeks ago when he was beaten by some backspin on a
very strange penalty kick
…but he's back!
As Andrew Stoeten tells us, Askri let in another woeful goal and then did what most of us would do – he ran to the sidelines and subbed himself off! See for yourself:
I tried to find some more information on this guy – like what the aftermath of that was, but I just came across pages and pages of links to these videos. Poor guy!
Is China The Answer?
With the NBA season just around the corner, don't expect to see Allen Iverson running up and down a court near you.
That is, unless China is near you.
Unable to garner much interest in The Association after joining four teams in the past two seasons, none with much success, Iverson is looking at his overseas options as he tries to figure out his future.
Yahoo's Marc Spears
reports AI is playing hardball with the Foshan Dragons of the Chinese Basketball Association, turning down a one-year, $4-million contract because that simply isn't enough money. According to Spears though, the Dragons are biting and are holding a roster spot for him incase he changes his mind.
Foshan is coached by former NBA player Jay Humphries, who tells Yahoo! Sports the financial offer might not change much, but Iverson could make a lot of money off the court like fellow NBAer Stephon Marbury did last season.
Despite not playing much Iverson remains popular among NBA fans, as was evident when it came to All-Star voting last year. The same remains true in China, where Humphries says he is behind only Kobe Bryant and Yao Ming in popularity.
Obviously it would be a bit of a culture shock for him, but it would probably be good for Chinese hoops if The Answer plied his trade there for a couple of years – and $4-million is a lot more than he'll get if he stays in North America.
Chapman Caught Speeding
With all the focus on the division/wildcard races in the Major Leagues at the moment as the regular season winds down (finally), lets take a look at something
completely different
.
Cincinnati Reds lefty Aroldis Chapman, a 22-year-old Cuban rookie, made history last Friday when he threw the fastest pitch ever recorded in an MLB game: a 105-mph fastball!
To put that into perspective, you're allowed to drive 110 km/hr, or about 68-mph on most highways here in Alberta. That's almost 170 km/hr!
Even crazier than that is the fact that he threw 25 pitches in his 1.1 innings of work, all of which were over 100-mph!
For the record, the next fastest pitch was recorded in 2006 when Joel Zumaya threw a 104.8-mph dart. Guess who's next on the list? If you guessed Chapman once again – you're spot on.
The Reds clinched the NL-Central this week, so hopefully that means we'll get to see some more magic in the postseason!
No Tweet Zone
Players participating in this year's Ryder Cup have been told by their team captains that there will be no 'tweeting' during the tournament.
In fact, the
Associated Press
reports they've been by US captain Corey Pavin and European captain Colin Montgomerie that they aren't allowed to use any type of social networking sites this weekend, to help them stay focused.
Not only do they say it's a bit distracting, but Montgomerie says people can get themselves into trouble if they're not careful. Cricketer Kevin Pietersen was fined after using Twitter to rant about being left off his national team, and Montgomerie says that sort of changed his view on the social media sites.
Europe's Graeme McDowell
broke the ban
almost immediately – tweeting to his followers on the way to a team meeting, but he's been quiet ever since.
"We'll start Tweetering or Twittering, on Monday, October 4," says Montgomerie.