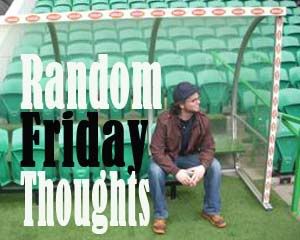 Year of the Pitcher (cont'd)
Usually baseball is all about the long ball, but this season it was the
guys on the mound
taking centre stage – a trend that has continued into the playoffs so far.
There were six no-hitters and two perfect games (or seven and three if you count the
blown call
that ruined Armando Galarraga's night back in June) in the MLB this season, marking one of the best showings from the league's pitchers since 1991. Fast forward to the playoffs:
Roy Halladay pitches a no-hitter in his postseason debut, and of the six games we've seen through two days of play, there have been three shutouts!
San Francisco's Tim Lincecum strikes out 14 batters in a complete-game, two-hit shutout of the Atlanta Braves.
Cliff Lee registers 10 strikeouts in a 6-1 game one win, before CJ Wilson and the Texas Rangers bullpen hold the AL-East champion Tampa Bay Rays to just two hits in a 6-0 game two win. In fact, the Rays only have eight hits in 18 innings of play so far!
I don't know what they're feeding those pitchers, but I hope they keep it up! How can you not feel absolutely great for Roy Halladay? I hope he pitches another no-hitter!
Could you B-More Stupid?
With baseball's postseason in full swing (see what I did there?), it only seems natural that I bring you this amazing story about a player on a team that wasn't even close to making the playoffs:
Even if the Baltimore Orioles somehow found their way into October baseball (some kind of wild-wildcard lottery?), it's unlikely that second baseman Brian Roberts would be able to suit up – why? He's suffering from concussion like symptoms. Stay with me here…
Why is he suffering from concussion like symptoms? Oh, that would be because he "whacked [himself] on the head with [his] bat" after he struck out near the end of the season.
Roberts says he's not certain that the concussion happened in that exact moment, but he figures it was from that night and that's the only time his head received a jolt.
"I had my helmet on; it's something I've done a million times," he told the
Baltimore Sun
.
Wow. Is it that bad playing for the Baltimore Orioles? Guys are giving themselves concussions just to get out of the lineup?
I know that concussions are serious and I'm glad they're finally taken seriously in pro sports, but this is just too much! What's next?!
While we're on the topic of the worst team's in baseball – there is no organization worse over the past several years than the Pittsburgh Pirates.
Pirates manager John Russell was fired last week after three woeful seasons that saw the team rack up 299 losses…but some are wondering if he is the real problem.
I'll let
AP Sports writer Alan Robinson
go into all the gory details, but here's something else worth looking at too – an article from back in August about how the "thriftiness" of the Pirates organization.
Toronto's Jose Bautista
used to play there – he says they made money, but they didn't spend money and that's why they're talking about an 18th straight losing season.
Really what they should do is rig up a pirate ship to float down the Hudson River and steal some talent from someone like the NY Yankees!
Roo the Day
Well, we all knew this day was coming – one of his many sponsors have dropped Wayne Rooney after his latest run-in with a prostitute!
The Man United striker won't feature on any
Coca-Cola cans or bottles
, with the company saying "given the situation" they "did not feel it was appropriate" to sport his image on their packaging. That said, they apparently haven't decided if the move is a permanent one just yet.
Rooney featuring in other Coke promotions is probably contingent on him laying low off the pitch and lighting it up on the pitch.
Reports say he's attributed his slow start this season to his off-field troubles, so Man U fans will definitely be hoping that a
second honeymoon
does the trick!
Speaking of the Red Devils – the club is announcing a £100-million operating profit today, the first English club to hit that mark…
It seems the devil is in the details though, as
Soccernet
reports that the team still lost £60-million overall! If you didn't know, Man United are in so much debt even The World Bank won't lend them money!
Curb Your Enthusiasm
While we're on that soccer tip, lets take a look at a story involving United's cross-town rivals, Manchester City.
Thanks to the seemingly unending riches of Man City owner Sheikh Mansour, the team has shot up from mid-table obscurity to knocking on the door of the elite – but unless they get things under control, it could be
all for not
!
You see, playing in European tournaments like the Champions League or even the Europa League are not only an opportunity to win some hardware, they are also a big cash cow for clubs. It's getting harder and harder for regular-sized clubs to compete with the monstrous payrolls of some of their fellow teams – but UEFA is trying to change that.
They've brought in Financial Fair Play rules, which force clubs to break even or risk being excluded from these big tournaments!
Man City is one of the first clubs to get a real stern warning on this front, after losses of £121.3-million and at least £130-million for this season, says Soccernet.
When I first hear about these rules a while ago, I figured there was no way it would get as far as clubs actually being banned, but it seems like they are pretty serious about it. Can these clubs actually reign in the reckless spending though? I sort of doubt it!
Tour de Faux
Without getting too into detail – here's what's going on in the world of cycling right now (you guessed it, another PED scandal!):
Back in July, Alberto Contador won this year's Tour de France for the third time. Last week, drug testers found something in one of his samples that he blamed on contaminated beef.
Since then, he failed a
second doping test
when high levels of plastic residues were found in a urine sample. Those bits of plastic could indicate that he received a transfusion of his own blood, which is bad…or they could mean he is a Ken doll, which means he's probably ineligible to race.
So never mind Floyd Landis and the ongoing thing with Lance Armstrong – there's a new kid on the block!
One more thing…
From
The Score
: from shoddy infrastructure, to sickness to monkey security guards, could it get worse at the Commonwealth Games in New Delhi?
It seems like the athletes are having "fun" but it's not so fun for the plumbers!