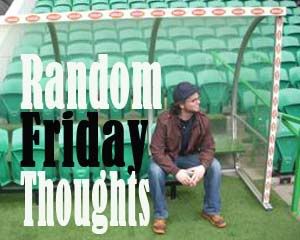 Today in Crazy People News…
I'd like to take this opportunity to introduce you to Grim LeRogue – the 33-year-old man who ran onto the field at Yankee Stadium on Monday night during New York's ALCS matchup with the Texas Rangers.
You don't remember him? He's the guy who tried to approach Alex Rodriguez to confess his love for actress Cameron Diaz, with whom A-Rod apparently had a relationship earlier this year (I have no idea if they're still dating, sorry).
Still don't recall? Come on – you know, the guy who told police that he wanted to kill Bobby Brown because Osama Bin Laden has a crush on Whitney Houston…?
Yeah, so it turns out the guy that ran onto the field was absolutely three sheets to the wind crazy and might have been carrying a picture of Rodriguez with his face crossed out, a drawing of a gun pointed at his head and the words "You gotta go, buddy." Wow.
All of this gold comes from the
NY Daily News
– including this next quote from a police source:
"He gave a rambling interview that he had an infatuation with Cameron Diaz. He thought by going out and choking A-Rod he'd be a hero to her."
Unfortunately for everyone involved, "Grim" isn't his real first name…he apparently also told police his real name is John, but he's trying to sell a 700-page book and the name change is part of that. I feel like we need something to wrap this story up – something that sort of brings it all together, while leaving the door open for future hilarity. Hmm…Oh, how about this quote from his mom:
"I'm sure he's fine."
And…..scene!
For the record, the Texas Rangers lead the NY Yankees three games to two in the ALCS play, with the series headed to Rangers Ballpark in Arlington.
Unfair Advantage?
For the first time ever,
the NBA is banning
players from using a new shoe on the market because they say it would give them a competitive advantage.
The Concept 1 shoe from Athletic Propulsion Labs uses a spring-based system, which they call "Load 'N Launch" technology, to help with your hops. The league says the vertical boost creates an "undue competitive advantage," so they won't be seen on NBA courts. I think they are probably just worried about concussions just like every other league – they can't have players hitting their heads on the rafters or getting tangled up in the banners hanging from the ceiling, after all!
According to APL
, this marks the first time in 64 years of NBA action that a product has been banned for giving a player an advantage. Just how much of an advantage do you get from the shoe? The company says tests showed an vertical leap increase of up to 3.5 inches when compared with the "leading brand."
Co-founder Ryan Goldston says players around the world who aren't playing in the NBA will still be able to take advantage of this technology:
"Dreams of gaining more lift on their jump shots, getting more rebounds, and finally achieving the dream of every player who was just a few inches away from dunking the basketball [are] now within reach due to the Athletic Propulsion Labs Load 'N Launch Technology."
Yeah, until other pro leagues follow the NBA's lead and ban the shoe!
Talk about a good promotion though – Ryan and Adam Goldston must be laughing right now! As
Popular Science
tells us, their father Mark is king of sneaker gimmicks such as the lights in LA Gear shoes and the Reebok Pump. So really, they're just following in their dad's lit-up footsteps!
@Racism?
Still on the topic of basketball – everybody knows that LeBron James took a lot of Heat for his decision, or The Decision, this summer to move from Cleveland to Miami.
He also caught some criticism in last month or so when he remarked that a lot of the negative things being said about him were a
product of racism
. Well, here's the latest: King James took a moment on Tuesday to
retweet some "hateful" messages
that were sent to his Twitter account this summer.
One of the three tweets is racially charged, one tells him he should lay his head under a moving car and the other simply calls him names.
James told reporters afterwards that he wanted to show "what type of words…are said toward me and towards us as professional athletes," adding "everybody thinks it is a bed of roses and it's not."
While racism has no place in this world, ever since the beginning of the internet there have been people who hide behind the three W's and make derogatory, shameful statements. For that reason, I'm not surprised that LJ has been on the receiving end of a couple of these.
As for the "bed of roses," I'm sure there are billions of people on this earth that would love to trade places with him.
Off The Market
Here's an interesting find – one lady is doing her part to fight the public perception that every pro athlete is a cheater when it comes to relationships…
The wife of St. Louis Rams defensive tackle Fred Robbins has started a company called
Off The Market
, with the goal being to keep athletes and their partners faithful to one another.
Apparently the company holds events for pro athlete couples in order to give other companies a chance to reach a "high-profile demographic in an intimate setting," says Tia Robbins.
Makes sense, I suppose, but it sort of sounds like a timeshare meeting for millionaires. The next event is coming up on October 31st, which is curious because I'm still waiting for my invite…
Tiger Imposter?
Speaking of cheating athletes, remember that Tiger Woods guy?
One of his alleged mistresses is selling, or has sold, an alleged sex tape of her and the world's number one golfer to a DVD production company for $350,000 and a cut of the profits.
Here's the problem though – Teneal Goyco tells
Radar Online
that he's the man in the tape and he was tricked into impersonating Tiger!
Goyco tells the website that he thought the video he made with Devon James and her husband was for their own personal use, and that he just went along with it because they offered him $1,000 cash to 'perform.'
He's now looking into legal action, since the tape is being sold without his permission.
What is this world coming to?
Other stuff…
Like Dr. Seuss? Like Sports? Well,
Sports by Brooks
has a story for you – apparently an old rough draft of a sports-themed Seuss book was uncovered recently.
Also from SbB – a
fight breaks out
at Ivor Wynne Stadium during a junior football game…
ESPN's Page Two
ranks the "Lamest Trophies in Sports" – find out which NHL award is among them!