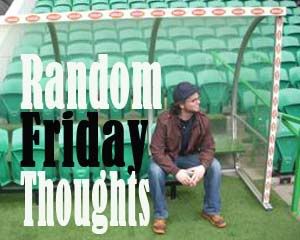 R.I.P. Paul
"Yes, I'll have the clairvoyant octopus please…How would I like it done? Hmm…Medium, thanks."
That may sound like a silly dinner order, but some lucky seafood lover in Germany may have been able to place it this past week as Paul the Octopus goes to the great aquarium in the sky.
Seen by many as the unlikely star of the 2010 World Cup in South Africa, the prognosticating ocean dweller successfully predicted the outcome of eight matches this past summer. Paul picked seven Germany matches correctly, including losses, and chose Spain to beat Holland in the final, capturing the imagination of a bunch of people around the world.
The
BBC
tells us he was made an honorary citizen of a Spanish town and was made an ambassador for England's 2018 World Cup bid because of his performance – but at two-and-a-half years old, it was clear that his time on this big ball of water was nearing its end as octopuses rarely get past their second birthday, or hatchday or whatever.
As you'll see in the clip below, where the anchor seems unable to pronounced the name "Paul," it wasn't all fun and games:
Believe it or not – a documentary about Paul's life has been filmed…and uhhh he had an agent apparently. Wow.
But the story doesn't end there –
The Spoiler
says a Chinese film director is claiming Paul really died three months ago and was replaced by a DECOY! I've heard from several unreliable sources that Paul just wanted to get away after a scandal erupted in the past weeks involving several female species at the Oberhausen Sea Life Centre, lots of drugs and alcohol, some cell phone pictures and one angry female octopus.
Last I heard, he was living in that Spanish town that took him in…though I predict we'll never truly know what happened to Paul the Octopus.
Undercover Boss
Still with soccer – a Spanish newspaper has opened up what could be a controversy of massive proportions involving Barcelona's ex-president Joan Laporta.
The Spoiler
says he allegedly paid a gang of private detectives to spy on his players and staff – including high-profile players like Deco, Ronaldinho and Samuel Eto'o, who are all no longer with the club. Documents show that over $850,000 was paid to a security firm to carry out tasks from following players to monitoring personal emails.
It gets deeper - other reports say that Laporta's men have also tailed the family of current Barca president Sandro Rosell!
On top of all that, there are also rumors that Laporta used the club's money for his own enjoyment, to the tune of about $100,000,000 – a hole that was "hastily covered up" before Rosell took over the club says The Spoiler's Richard Gilzene.
Wow!
United against Glazer
During the whole Wayne Rooney fiasco I mentioned that there's a section of Manchester United fans that completely despite the team's American owners, the Glazer family.
Well, we could be close to seeing an
epic battle on that front
, as FC United of Manchester are just two wins away from a potential meeting with Man U in FA Cup action.
FC United
play in something called the
Evo-Stik league
and were apparently formed as a "breakaway club" for fans who opposed the Glazer takeover of the Red Devils. It's actually quite interesting – they're a community owned team, democratically run by the over 2,000 members that have shares. Will that help them beat the team they once loved if they do end up playing them? Not bloody likely! Unfortunately for the would-be screenplay that I'm sure is being developed somewhere in the unlikely event that FCU come out on top, it will probably be a one-sided affair.
Speaking of Man U, they might have the services of
Europe's highest paid player
in time for a November 10th clash with their cross town rivals Manchester City.
Wayne Rooney, who was briefly rumored to joining City before signing a massive five-year contract extension with United, has been hurt since October 19th (or the start of the season, depending who you believe).
He has yet to score a goal this season – but what better time than the Mad-chester Derby to open your account!
Other stuff…
Are the
NY Cosmos
planning a return to the NASL?
From the "What Not To Do" file:
The Liverpool Echo
tells us about a guy whose overreaction to a red card involved the field of play and his car…