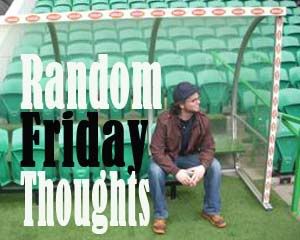 Making the Rounds
Instead of getting ready for the biggest fight in the world of boxing in what seems like ages, Manny Pacquiao is preparing to fight Antonio Margarito at Cowboys Stadium next weekend.
Margarito is no slouch, that's not what I'm getting at, but he certainly isn't Floyd Mayweather Jr.
The seven-division world champion might never get to fight Mayweather in what would, right now anyway, be a massive pay day for both participants - but lately some people are wondering if he is even taking this Margarito bout seriously.
The Manila Standard
wrote this week that rather than train, Pacquiao has opted to make public appearances all over the place, including a hit on Jimmy Kimmel Live and a political rally in Las Vegas. The same paper wondered a day or two later
"Is Pacquiao too confident?"
Pacman responded to those questions on Wednesday, writes
BoxingScene.com
, saying:
"[I] trained hard and there are no distractions, nothing to worry about. I have time for politics. I have time for boxing. This is why we're not worried about the fight….I have to win and I consider this fight a very important fight in my whole career."
I'm rooting for Pacquiao in this fight, mainly because he's on the cusp of another level of greatness than he has already achieved – but this is something you see all the time in boxing. The champion (or the favorite) doesn't train as hard for a particular fight as he normally does and he ends up flat on his back. If you go through the history of boxing and look at post-fight comments from big upsets, you'll see that over and over again.
I hope that isn't what's happening here.
I mentioned earlier that Pacquiao made a guest appearance on Jimmy Kimmel Live – did I mention it was to debut his own
brand of cologne
and sing a duet with Will Ferrell?
Imagine that!
Who Won the World Series?
It's always fun to see someone other than the two highest payrolls in baseball make it to the Fall Classic, isn't it?
Apparently not, as World Series ratings were down 25 percent from last year, says the
NY Times
. That makes it the second worst World Series in terms of ratings (Philly vs. Tampa Bay in 2008 is the worst).
Maybe expanding the playoffs will help with ratings, because fans of more teams will have a chance to get excited. Lets be honest, the majority of MLB fans know their team is out of the running by like August, especially if you cheer for the Blue Jays.
It is something the league is thinking about – commissioner Bud Selig said this week that he would consider adding
two more wild card teams
to make the playoff system a little more "fair."
You know what they should do? Cut the number of games in a season by like 62 and add these two playoff teams. How about a home run derby at the start of each round to determine home field advantage?
Speaking of the World Series, apparently San Francisco Giants fans
put a hurtin'
on their city after their team dispatched the Texas Rangers in five games. Britain's The Daily Telegraph took that opportunity to remind us all that
post-championship riots
are as American as apple pie.
What a Goal!
Last Saturday the Calgary Flames somehow managed to turn a 2-0 lead over the Washington Capitals into a 7-2 loss, but that's not even the best part.
The best part, if you're wondering, was goal number five, scored by Cory Sarich. Yes, he plays for the Flames.
There is no lonelier a feeling than the one you get when you score on your own net. Poor guy – then again, he plays for the Flames, so I suppose he had it coming.
While we're on the topic of feeling shame – some veteran NHLers might feel a bit of that when they get to the point in their careers where it's tough to find a job in the NHL and they get sent somewhere else.
Not Jon Sim, though.
Making his
AHL season debut
, after being waived by the NY Islanders, Sim scored a hat trick and the shootout winner in a 6-5 Bridgeport win over Springfield.
Atta boy!
Other stuff…
Kevin Garnett is taking some heat for
something he said
to an opposing player this week…
Ghana's World Cup team is still waiting for the
$63,000
in bonus money promised to each player…
Orland Magic star Dwight Howard
drops a CD
…a kids CD…where he covers a bunch of songs.
If you live near Newport, Minnesota, and you've got a Randy Moss jersey you'd like to get rid of…you can eat for free at
Tinucci's Restaurant
today!