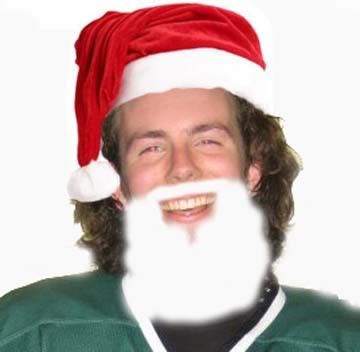 Well, it's that time of year again!
It's hard to believe it's already been a year since the last time, eh? The first sign that it's coming is always the snow, unless you live somewhere nice (you jerk) – this year the white stuff came a little bit late to Edmonton, but it didn't take long for the city to do it's best North Pole impression.
Ah yes, I love this time of year.
Of course I'm talking about the time of year when professional athletes reach out to their fans by getting together to butcher festive tunes or make hilarious parody videos! Oh right, it's also Christmas! Well, here's my gift to you: I've searched high and low across the internet to try and find the best Christmas videos made by pro athletes this holiday season.
So put another log on the fire or turn your TV to the channel with the fireplace, gather 'round the computer and check out this hilarious and ridiculous feast of Christmas cheer!
The Sharks Acapella Holiday Album
This pretty much sums it up: "Twenty of your favorite holiday tunes, each varying in their proximity to the original!" This one is a classic, starring guys like Joe Thornton, Patrick Marleau, Dany Heatley, Ryan Clowe and more!
The Chicago Bulls Present: The Twelve Days of Christmas
In this video, we get a Bulls version of a Christmas classic starring guys like Joakim Noah, Derrick Rose, Carlos Boozer and even features a cameo by Scottie Pippen! This one kills me – the soft-spoken plays it off like he's in an elementary school play looking for his parents in the audience!
The Belfast Giants: All I Want For Christmas Is You
You may not have heard of the UK Elite Ice Hockey League, but you likely won't forget the name once you've seen this video. The team has become a bit of a global hit with hundreds of thousands of YouTube views of what you're about to witness!
This team has a solid promotions team – on Boxing Day they're holding a "Dodgy Present Exchange" where people can re-wrap presents they don't want and trade it for (hopefully) something better…Classic!
The Denver Nuggets: Christmas in Hollis
Here we have the Denver Nuggets take on the Run-DMC holiday hit "Christmas in Hollis" – complete with afro wigs and big bulky chains! This one even comes with its own
blooper reel
, which you should check out afterwards…
The New Orleans Hornets: Christmas in New Orleans
As it turns out, Christmas in Hollis was a popular choice among NBA teams this year for their holiday videos – but who does a better rendition: The Nuggets or the Hornets?
I think my vote goes to the Hornets!
The Pittsburgh Steelers: Christmas Carols
If you fancy yourself a bit of a Christmas Carol connoisseur, I would not recommend watching this 8:20 video of football players stumbling their way through all of the holiday favorites…If the Steelers take it down before you get to see it, consider yourself lucky!
Villarreal FC Plays Soccer with Santa
I'll be honest – I have no idea what the players from La Liga side Villarreal are saying in this video, but I can see what they're going for!
Well, that about does it for this year – I hope you enjoyed this special festive edition of Kerrzy's Notebook. Merry Christmas!