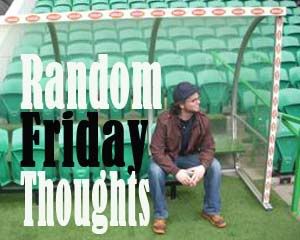 Intentional Reds
Last Friday
I showed you a video where two Real Madrid players were accused of earning "intentional" red cards…and now I bring you the fallout from that mess:
The reasoning behind the "intentional" cards was that Real have a meaningless game coming up (as they've already clinched their Champions League group), and the two players, Xabi Alonso and Sergio Ramos, would be suspended for one game for their next yellow cards. Once you serve your suspension, the slate is wiped clean and you start from scratch.
Genius strategy from Jose Mourinho, right?
Yes, except when the TV cameras catch you whispering something to an assistant coach, then to the backup goalie, who goes and whispers something to the goalie, who is then shown whispering something to one of the two players involved in the stunt.
UEFA was pretty upset about the whole thing, though I don't really see the harm in it - that is, I don't see what makes that worse than the constant diving and faking of injuries that is commonplace in "the beautiful game."
As punishment, and this really is beautiful, Mourinho will be suspended for the meaningless game. He was actually handed a two-match ban, but that second match is suspended for three years…ironically.
As the
Daily Mail
tells us, the club was also fined £180,000, with Jerzy Dudek, Iker Casillas, Alonso and Ramos all having to pay up.
If you missed it, Real were back in the headlines early this week for all the wrong reasons again: this time, a 5-0 "El Clasico"
loss to Barcelona
.
Many Happy Returns
Two high-end pro athletes returned to their former stomping grounds to a loud chorus of boo's on Thursday night, and both came out on the good end of lop-sided wins.
Lets start out in Cleveland where LeBron James ended up doing "
that powder thing
" that he does before every game after all, but the fans let him have it all night long. The problem is, the Cavaliers aren't very good and LeBron James is really good, especially when he's
charged up
!
He had 38 points, eight assists and five rebounds in Miami's 118-90 win, playing just 29 minutes. That's 10 points more than the entire starting lineup of his former club…do you think they miss him?
Dany Heatley also
faced a tough crowd
when his San Jose Sharks skated out to face the Ottawa Senators.
The fans in Ottawa hate Heatley because he demanded a trade before last season, saying he wasn't happy with his role on the Sens under new coach Cory Clouston. Eventually he ended up in San Jose, and this was his first trip back to the OTT where the fans chanted "Heatley Sucks" before the game and booed him every time he touched the puck:
At one point, a group of fans even ran towards the glass and tossed a bunch of Heatley memorabilia onto the ice. What a waste!
Oh yeah, and San Jose won 4-0, with Heatley picking up an assist.
Not a Moment Too Soon
It looks like the referees in Scotland's Premier League called their strike just in time.
Yes, some winter weather made things easier for the league last weekend when Sunday's games were cancelled, but at least the refs made their point. Had they planned a strike for this weekend, it wouldn't have had nearly the same impact because there won't be any action at all anyway!
As
The Guardian
tells us, "snow and ice have gripped Scotland" which has led to the cancellation of all six games on the schedule (shout out to my Auntie Maureen for that bit of info)! Here's the official word from the
SPL
:
"In light of the severe weather conditions across Scotland, which are
forecast to continue for some time, all Clydesdale Bank Premier League games have been postponed on Saturday 4 December. It is hoped that this early notice of postponement, whilst disappointing, will allow everyone to plan accordingly. New dates for the fixtures will be announced in due course."
Meanwhile the chief executive of the Scottish Football League, home to the three lower divisions of footy, says he'll be asking about compensation for the missed matches last weekend.
The SFL's David Longmuir tells
The Scottish Sun
"We fared the worst out of everyone, I don't have any doubt about that," adding that he'll be speaking with the Scottish Football Association about getting some lost money back in the pockets of his member clubs.
That said, the Sun article is titled "SFL clubs set to sue," and Longmuir is quoted as saying "I don't want to sensationalize this by saying I'm seeking compensation," so take that with a grain of salt.
Gotta love the British press!
A Bit of Context…
There were some fireworks last Sunday in the NFL when a
fight broke out
between two players in the middle of a 20-0 Houston Texans win over the Tennessee Titans, an incident that saw both players get fined, but not suspended.
If you missed it: Cortland Finnegan, who is known as a bit of a troublemaker around the league, gets into it with Texans receiver Andre Johnson and both players end up getting ejected from the game.
It turns out that Johnson was mic'd up for the game by something called SoundFX and they posted a piece on YouTube that gives us all a bit of context (via
Fark
)…
Without the suspension Johnson was allowed to play on Thursday night and had six catches for 149 yards, but his club fell 34-24 to Michael Vick and the Philadelphia Eagles.
Other stuff…
Scottish soccer player will miss six weeks after suffering a broken finger…while
exiting the team bus
…