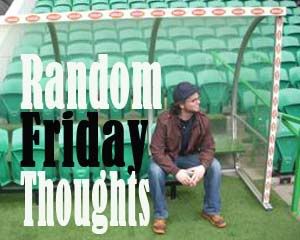 Question/Answer
Remember that Allen Iverson guy?
The last we heard from The Answer, he was off to Istanbul to suit up for Besiktas Cola Turka of the Turkish Basketball League after not getting any looks from NBA clubs. Aside from the name recognition, it doesn't sound like he has done a whole lot for his new team, but he's back in the headlines this week!
An alleged
Iverson tweet
has the basketball world talking, specifically fans of Australia's Sydney Kings. I say "alleged" because no one is quite sure that the entire thing isn't completely fabricated…
Australia's
The Daily Telegraph
reported this week that AI had this to say on his Twitter account:
"I am very happy here in Istanbul, but if I don't return to the NBA I am considering a move to Australia after my two-year contract is up. I hear Sydney is a real good city to live in. My boy Rodney asked me to come over. I am comin!"
First of all: It doesn't sound real. The "if I don't return to the NBA" part sounds particularly fake because he has done nothing during his short time in Turkey to make an NBA team take notice, so why would he say that? Secondly, the alleged tweet is nowhere to be found, as
Back Page Lead
points out.
BPL's Daniel Eade hears you saying "maybe he deleted the tweet," and replies by wondering why no one retweeted the two alleged tweets and pondering the fact that no other news outlet in the world saw these tweets for themselves. Any mention of this story quotes the Daily Telegraph, who didn't bother taking a screenshot either!
Sounds like some shoddy journalism to me…
Fight Club!
Doesn't it seem like massive brawls are a little more common lately in the world of sports?
After that huge one in the UK Elite Ice Hockey League and the pathetically one-sided line brawl in the KHL, I thought we had reached our quota for the month…but it turns out that I was all kinds of wrong!
Lets start with the Lingerie Football League: First of all, yes this is a real thing. If you've never heard of it, it's apparently a 7-on-7 women's league where the players wear what I suppose is considered to be lingerie in terms of football. I've never watched a game, but I'm sure it's just great.
Last Friday, all hell broke loose at the end of a game between the Miami Caliente and the Tampa Breeze:
A few players were
suspended
as a result of the brawl and one coach was released from the league. Who knew that the LFL was so intense!
The next big brawl comes to us via the National Lacrosse League, where a pre-season game between the Toronto Rock and the Buffalo Bandits got out of hand (via
Inside Lacrosse
):
Okay we've seen women football players fight, we've seen male lacrosse players duke it out – what about Swedish hockey fans?
As
Yahoo's Puck Daddy
tells us, massive brawls broke out in the stands ahead of the "Stockholm Derby" between AIK and Djurgarden on Wednesday, which included clashes with police and smoke bombs. It almost looks like everyone there is an LA Lakers fan who just heard about the back-to-back championships!
If you see any good Boxing Day brawls, be sure to load them up onto YouTube!
Recycle the Trash Talk?
This one here is for all of my Australian homies – your country's national cricket team hasn't been at its best lately, and you've probably been wondering why…
Well I was doing a bit of sleuthing, you know, trying to 'suss out' the answer, and it all comes down to sledging. If you're a North American who doesn't know about or care about cricket, I've probably lost you…but stick around! This one gets interesting!
Since putting up a world record 16 straight wins, Australia's cricket team is a very average 17-12-8 – so what happened?
Australian Cricketers' Association chief executive Paul Marsh tells the
Sydney Morning Herald
that the players were told that they had to change their on-field behavior after an incident during an Indian tour of Australia back in 2008. Apparently talking smack, or "sledging," is a big part of cricket and players were told they could no longer use that tactic to get other teams off their game.
Marsh says Australia's rivals have exploited this in the past two years, calling it a "weakness" in the national team!
Imagine that – trash talking is such an integral part of the game that being told you're not allowed to do it anymore throws you for a loop. Who knew it was such an important aspect of the game? Does that change your perspective of cricket a little bit?
I love Australia – at the bottom of the Herald story there's a poll question that reads "Did Cricket Australia make the Australian team soft?" to which 72% of people replied "Yes."
Cricket Australia has since relented on its demands that players keep their mouths shut, as long as it is "hard but fair cricket" being played. So far it's working – that change in attitude translated into an Ashes win over England in Perth this week, which leveled the series at 1-1.
The English were apparently thrown off by the "sledging" that came their way in the latest Test and say they will
refuse to participate
in the practice when the two countries meet on Boxing Day in Melbourne. Yeah, we'll see how long that lasts!
These stories put cricket in a whole new light for me – I love trash talk!
Other stuff…
The NHL won't say yet where the
next Winter Classic
might be…but apparently just about every team is trying to get the game…
Fresh off a beat down of Antonio Margarito,
Manny Pacquiao
has another fight lined up for the new year…
The guy who threw waffles onto the ice at the Air Canada Centre during a Maple Leafs game
isn't allowed back
…
Check out what the
Cleveland Indians
did to their ballpark for the winter (for people who want to spend jussssssssssst a bit of time outside)…