While it's nowhere near a record, today certainly marks another milestone in the life of The Great One, Wayne Gretzky.
The man who once scored 50 goals in 39 games is now 50 himself, years removed from his last twirl around an NHL rink yet still beloved by millions of hockey fans around Canada and the rest of the world. A quick Google search of his name this morning reveals hundreds of articles written in honor of the #99's big 5-0. A glance on Twitter shows page upon page of reaction to the fact that it's Gretzky's birthday (both good and bad, but mostly good).
Whether or not you enjoy the fact that the man's birthday is getting so much coverage, there's no denying this point: Wayne Gretzky still means a lot to a lot of people.
It's been just over 4,300 days since Gretzky took an emotional skate around Madison Square Garden after notching his 2857th career point in a 2-1 loss to the Pittsburgh Penguins – the end of a long, productive and historic era in the NHL. To me, the fact that so many people care about his 50th birthday is a true reflection of the mark he left on the game and the people who watched him play it over all those years.
I'll admit, for those of you who feel suffocated by Gretzky coverage in the past few days, it has been a bit much at times. The way some people have been eulogizing his career, you might have wondered if something terrible had happened to him if you didn't know it was his birthday (because it's his birthday, you know). Again, hate it or love it, that outpouring from all corners of the hockey world speaks to the respect and admiration garnered by The Great One during his career, and afterwards.
When people get to reminiscing about their most memorable Gretzky moment or talking about what he meant to a city like Edmonton, there is no stopping them!
Today, in honor of Wayne Gretzky's big day, I encourage you to take a moment to reflect on just how amazing his accomplishments were, and still are. Take a look up and down his list of NHL records, read up on his time in the NHL and really try to let it sink in just how far anyone else is from being the dominant player that Wayne Gretzky was. Also, scroll down for some Gretzky clips from YouTube and a few of my favorite Gretzky-themed "tweets" from the past day or so (including one of my own, for good measure).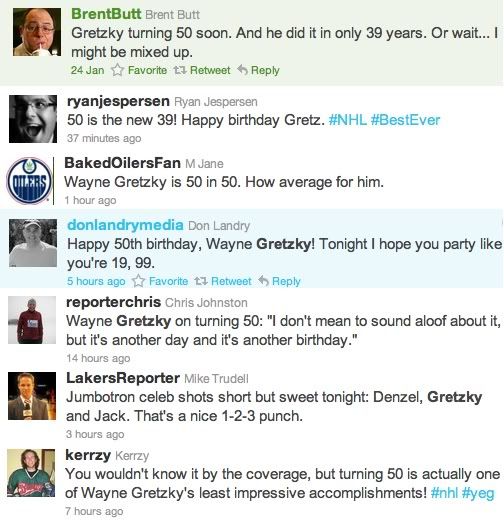 Looking back on some of the big moments in his career, it's interesting to note how even after he moved on, the Edmonton Oilers always seem to pop up – his first pro goal came against Edmonton, his 802nd career goal was assisted by a former Edmonton teammate, he broke Gordie Howe's points record against the Oil at the Coliseum…I suppose history is just funny that way. Here's that first goal of his pro career:
Isn't it amazing that after all these years, no one has really come close to beating Gretzky's record of 50 goals in 39 games?
I'm no mathematician, but I'm guessing it'll take a few 50-in-39s if anyone hopes to reach Gretzky's career mark of 894 goals. Here he is breaking Gordie Howe's record with #802:
One of the things that made Wayne Gretzky such a threat out on the ice was that he was just as lethal passing the puck as he was when he was putting it on net himself. Years before he broke Howe's goal scoring record, he also became the all-time league leader in points (finishing his career with 970 more points than Mark Messier, who also recently turned 50):
I dare you to try and watch this last video without getting a little bit emotional:
Happy birthday Wayne!