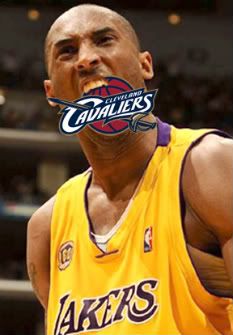 The new year hasn't been kind to the NBA's Cleveland Cavaliers so far and if Tuesday night is anything to go by, it doesn't look like things are about to change anytime soon.
The Cavs are 0-6 to start 2011 and 1-20 since a loss to LeBron James and the Miami Heat to start the month of December. On Tuesday it wasn't so much that they lost though, it was how they lost! A Cleveland team depleted by injuries is now picking up the pieces of a shattered collective ego after a 112-57 loss to the LA Lakers at the Staples Center.
For the mathematically challenged, that's a 55-point defeat!
I hope Cleveland's resolutions for 2011 didn't have anything to do with winning, because at this rate they'll never score more points than anyone! I blogged this week about the Cavs
changing hotels in LA
to avoid bumping into the Heat, who are also in town…I'm thinking they should probably cross the street the next time they see those Lakers too!
NBA.com
quotes guys like coach Byron Scott and forward Antawn Jamison talking about how embarrassing the loss was and what a "rock bottom" moment they're in right now, but the real question is this: What does LeBron think?
LeBron James has been hated in his old stomping grounds ever since "The Decision" took him from Cleveland to Miami, especially with the Heat soaring and the Cavs looking like a men's league team. He didn't say much when team owner Dan Gilbert
blasted him
this summer though and he kept fairly quiet when his new team thrashed his old team by 28 points in early December and beat them again mid-month. This time though, it seems he just couldn't resist:
"Crazy. Karma is a b****.. Gets you every time. Its not good to wish bad on anybody. God sees everything!"
That comment is probably directed mostly to Gilbert, whose childish outburst after LeBron decided to leave (written in Comic Sans) made him look like a fool. Looking back on what he wrote, I think I've zeroed in on one of the key lines:
"Until he does "right" by Cleveland and Ohio, James (and the town where he plays) will unfortunately own this dreaded spell and bad karma. Just watch."
Dreaded spell and bad karma? Since the final game of November, the Heat are 21-1, while the Cavaliers are a lowly 1-21 (with two losses to James' Heat). If anyone is under a spell, it's the team that can't even field an NBA-caliber team at the moment – you know, the one with the .211 win percentage and the 8-30 record!
I know some people hate LeBron James for "The Decision," or simply for leaving the Cavs in search of something better (I'm not one of those people, for the record), but you've got to give him this one.
Haven't we all wanted to stick it to someone like he just did at one time or another?