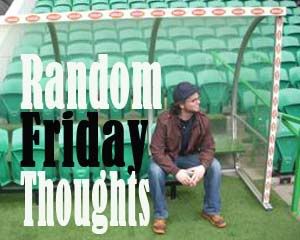 Karma Police II: Karma Harder
The Karma Police are working overtime this week trying to keep up with the goings on of the National Basketball Association…
On Tuesday, after the Cleveland Cavaliers lost by more than anyone should to the LA Lakers, former Cavs star LeBron James
pointed out on Twitter
that "Karma is a b****." He has since come out to say that the tweet
wasn't about the game
and wasn't even a comment from him.
Either way, King James and his Heat lost to the lowly LA Clippers on Wednesday, capping a run of 21 wins in 22 games. To make matters worse, he
sprained his ankle
and missed his first game of the season on Thursday in Denver. To make matters even worse than that, without LeBron the Nuggets beat the Heat by
almost 30 points
!
Speaking of the Nuggets, there are some new developments to report in the Carmelo Anthony saga.
Melo may have his wish to play for the
NY Knicks
granted soon, despite heavy interest in trading for him being shown by the NJ Nets. The Nets are working on a multi-team deal to acquire Anthony, but it all comes down to him actually wanting to sign an extension with the team. The Knicks are apparently now reaching out to other teams to see if they can facilitate something the Nuggets would consider.
Another One?!
What is it with us and prognosticating animals?
There was Paul the Octopus at last year's World Cup, TSN had Maggie the Monkey making NHL playoff picks for a few years – now Major League Soccer is trying to get into the spirit with a
dolphin named Chesapeake
.
The Baltimore National Aquarium resident went head-to-head this week with "the pundits" ahead of the MLS SuperDraft, the league's yearly draft of college-aged players. The top six prospects all kicked a ball into the water and the dolphin was supposed to bring back the ball of the player it thought would go first overall.
Chesapeake brought back the ball of University of California defender
AJ Soares
, but the Vancouver Whitecaps apparently had some better intel than the dolphin did. With the first overall pick they ended up selecting forward
Omar Salgado
.
So, what went wrong? A spokesperson for the aquarium said ahead of time that the dolphins have a bit of "football fever" right now because of the Baltimore Ravens being in the playoffs. It makes sense that it would pick "Soares," doesn't it? I feel for poor Chesapeake, had it picked the right player, it might have become famous like lucky animals before it.
You never know, it could have ended up starring in
a documentary
and everything!
Buy or Sell: NHL Guardian Project
After reading through what I'm about to share with you, I think I can honestly say that I've now seen it all.
The NHL's latest attempt at expanding its fan base is straight up "comical" – you'll see what I just did there in a second. The league is teaming up with Spider-Man creator Stan Lee to create
30 superheroes
in an effort to reach "tween boys" and bring a "new audience" to the NHL.
So far
twelve of these "Guardians"
have been released, the latest of which is The Shark (guess the team!). The Shark is low-key, but can become more tenacious at the drop of a hat. He's a technopath who can interface with any kind of computer data or software but has poor eyesight. He appears to get around on some type of lightning bolt looking skis.
As for
The Oiler
– for some reason he seems to live in the Northwest Territories, he hangs out with oilrig workers, enjoys hard work and has a "quirky" sense of humor. Oh, did I mention that he's 10-foot-5, weighs 950-pounds and shoots oil?
This whole thing seems pretty silly, but maybe I'm just missing the point. What do you think?
Other stuff…
You: Boy, that Vernon Wells sure is overpaid. Wells:
I agree
!
Tostitos says it had nothing to do with what sounded like a
shameless plug
in the dying seconds of the Tostitos BCS National Championship game…