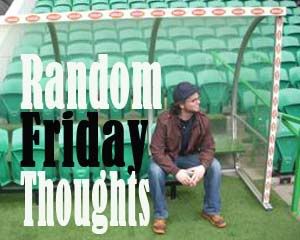 National _______ League
Did you hear what happened last week in the National Lacrosse League?
The Boston Blazers brass are a little red in the face after a halftime production drew some bad press from everyone but "Scorch," the team's mascot. Personally I don't know what all the fuss is about – what says "fun for the whole family" like a "
best lap dance
" contest?
That's right! Three female contestants from the crowd squared off during the break at the TD Garden in Boston to see who could give "Scorch" the best lap dance, as an arena full of parents and kids looked on.
While I don't think the mascot was complaining, plenty of fans did and the team was forced to issue statement in the aftermath of this incident. The team's president and GM said the halftime act "was clearly not executed according to plan," and that he was "extremely disappointed" with what happened.
Here's a fan video of what went down:
No word on how upset Mrs. Scorch was when this video surfaced, though it's safe to say she was probably fuming!
The worst part of this whole thing is that the Blazers beat the Edmonton Rush 10-7!
Drunk Sports Fans
"Collllllllllllllllllllllllld Beer!"
Researchers in the US must be running out of things to research; either that or they're just very creative! I came across an interesting article this week that dealt with inebriation and sports, two things that seem to go hand in hand at arenas and stadiums around the world.
Scientific American
reports that a group of researchers went to thirteen different baseball games and three football games and asked people in attendance if they would take a breathalyzer test on their way out. They found that, of the people who said yes, eight percent were too drunk to drive and forty percent registered "some level" of alcohol in their systems.
Looking a little deeper, the study says people under 35 years old were nine times more likely to be over the legal limit and tailgaters were 14 times more likely.
Are you surprised by those numbers?
I probably should be, but I'm not – have you ever seen the amount of sweat pouring off one of those poor beer vendors by the second period of a hockey game? They're dripping! It's also not surprising that young people tend to drink more than older people or that "tailgaters" are far more likely to be hammered – isn't the point of tailgating to sit in the parking lot before a game and drink?
The one interesting (and not completely obvious) thing about this study is what that eight percent means: For example, that would be over 1,300 people at a sold out Oilers game! The study isn't saying that these people are getting behind the wheel, but it makes you wonder about how many are.
Lets be real here though, I'm sure those numbers are a bit on the low side!
A Case of Dangleitis
Have you heard of a kid named Tomas Jurco?
The Saint John Sea Dogs winger took part in the
CHL Top Prospects game
this week in Toronto, playing for Team Cherry in a 7-1 loss to Team Orr, but he really made a name for himself in the Skills Competition (
also a win
for Team Orr).
The 6'2, 193-pound Slovak is a very talented offensive player with highlight reel written all over the way he plays. During the Showdown Breakaway portion of the Skills Competition on Tuesday night, Jurco pulled a couple of moves I had never seen before and finished up with an old classic from the Book of Dangle.
Isn't that first move just sick?! You're probably sitting there thinking to yourself "Yeah but lets see him try that in a game!" My friends, this is
one confident kid
.
There is no question that those shootout moves are pretty epic, but wait until you see what Jurco is doing in this next video!
Again – you're probably thinking to yourself "There is no way that twirling stick trick is real." I thought the same thing, but during the Sportsnet broadcast of the Top Prospects game, play-by-play guy Peter Loubardias said he actually saw Jurco doing it during warm-ups!
Are you kidding me?! I can't wait to see more highlights from this guy!
Other stuff…
The NHL All-Star game could be missing some star power with
Sidney Crosby
still out with a concussion. Oilers forward
Ales Hemsky
also has a concussion, while Calgary captain
Jarome Iginla
is sitting this one out for personal reasons…
If you're into cycling drama,
Sports Illustrated
has some very interesting things to say about seven-time Tour de France winner Lance Armstrong…
It's been a few weeks since we've had a huge sports brawl featured on the blog…so here's one from an NCAA hockey game between
Minnesota and North Dakota
!