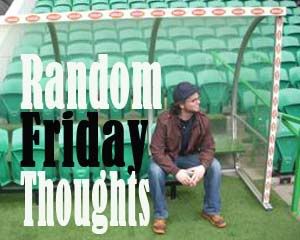 Mamma Messi
We're going to start off this week talking about birthdays – with all the media attention given to Wayne Gretzky turning 50, you've probably had enough of "birthday" storylines, but I've got an important question to ask all of you:
What did you get your Mom for her last birthday?
The reason I ask is that there is literally no way it was as awesome as what two-time FIFA player of the year Lionel Messi got for his Mom! When she turned x years old last weekend, her superstar son got her a La Liga goal!
Moments after beating Racing Santander goalie Toño on a 33rd minute penalty kick attempt, the Barcelona striker lifted up his jersey to show off the message he had written on his undershirt before the game: "Feliz Cumple Mami!"
What does he get for being a good son?
A fine
of between 2,000-3,000 euros. Come on! I think someone in the league office must just be upset that the $20 Subway gift certificate he got his mom wasn't nearly as thoughtful.
I wonder if Messi had a backup plan ready incase he didn't score?
Speaking of Fines…
An English Premier League club has been fined £25,000 for not fielding a strong enough side!
Back in November, Blackpool manager Ian Holloway made some wholesale changes to his lineup ahead of a game with Aston Villa, which they lost 3-2. Now, when I say "wholesale changes," I'm saying that no one who played this past weekend against Manchester United featured in the Villa loss.
Apparently that violates some new rule and the league decided to throw the book at Holloway, when in the past they've dished out at least one "suspended" fine.
That's what happens when you basically dare the league to punish you for something (from
ESPN
):
"If I got fined for picking a weakened team I would resign – I would pack it in. I don't care what anyone else says – I can do whatever I like. Let the Barclays Premier League tell me otherwise. Who the hell are they to tell me how to do my job?"
Yeah, that'll do it! I love that he got the league's title sponsor in there too – what a company man.
So,
did he quit
? Not as of right now – though Blackpool chairman Karl Oyston says he has spoken to Holloway about it and "[will] not accept his resignation."
If he does end up leaving and Oyston is forced to appoint an interim manager, do you think they'll be fined again for fielding a weak coaching staff?
Throwing Money Away?
Here's one you don't hear every day: an MLB pitcher who didn't feel like he was earning his huge paycheck says he doesn't want the cash…
League minimum? Nope. The
NY Times
reports that Kansas City Royals right-hander Gil Meche is walking away from $12-million in guaranteed money!
Let that sink in for a moment and then check out what he told Times reporter Tyler Kepner: "When I signed my [five-year, $55-million] contract, my main goal was to earn it. Once I started to realize I wasn't earning my money, I felt bad. I was making a crazy amount of money for not even pitching. Honestly, I didn't feel like I deserved it."
Meche didn't pitch much (0-5 in nine starts) last season, in part because of a bum shoulder that has been surgically repaired twice and isn't getting any better. It takes a real man to stare down a massive pile of what is essentially free money and decide against throwing on your swimming trunks and going scuba diving through it (what, you wouldn't scuba dive through $12-million worth of paper money?).
Think about this guy's situation for a second – his employer knows his body isn't at its healthiest and that they won't get a whole lot out of him, but they weren't trying to get rid of him or anything. Kepner writes that the Royals "fully expected Meche to pitch in relief…If nothing else, they believed Meche could be a positive influence for a young roster."
Basically, they were willing to pay Meche all that money to be a mentor! I should record some tapes and send them to KC, maybe there's a job for me there!
Other stuff…
After a couple of instances where fans watching from home got players disqualified, the head of the PGA is thinking about
changing some rules
…
Ted Williams, the formerly homeless guy with the golden voice, has
left rehab
against doctor's orders and his whereabouts are "unclear" as of right now…
In honor of this weekend's NHL All-Star game, here is an amazing find from
Yahoo's Puck Daddy
: