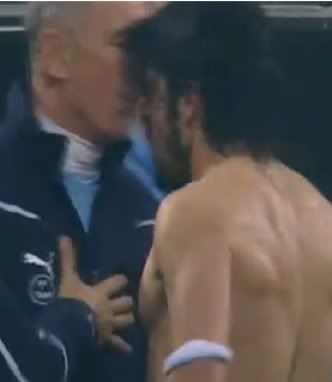 The round of 16 got underway in UEFA Champions League action this week, but not without some controversy right off the hop!
Over here at Kerrzy's Notebook, we love controversy, so lets give a round of applause to AC Milan midfielder Gennaro Gattuso who will likely face some swift punishment for his actions in a 1-0 loss to Tottenham Hotspurs at the San Siro on Tuesday.
ESPN Soccernet
reports that Spurs assistant manager Joe Jordan was giving it to Gattuso from the sidelines during the second half when the player lost the plot and struck him in the facial region. I say "facial region" because I've seen it reported that Gattuso "grabbed him by the throat," you could almost call it a punch, but in reality it was an open-handed face push (if such a term exists). Obviously the trash talk got to him because the two locked horns again after the game, which resulted in a minor head butt being delivered by the Italian.
This next part of the story makes me laugh: Gattuso says Jordan was "breaking [his] balls" (not busting them) in the second half, saying "we were both speaking Scottish, given that I played in his country in Glasgow (for Rangers)."
I should have known they were speaking Scottish during that heated exchange – the conversation ended with a "Glesga Kiss" after all!
"I lost my head," Gattuso told reporters afterwards. "I did something I shouldn't have done…I made a mistake doing what I did to an older person, and that's it."
Whether or not UEFA decides to hand out any extra punishment, Gattuso will miss the return match at White Hart Lane because of the yellow card he picked up on Tuesday. Let's be honest though, he's lucky if he gets off that easy!
You can't just walk up and strike a member of an opposing team's coaching staff, regardless of what your excuse for doing so is. It's bad enough when players attack each other, but what Gattuso did just crosses the line in my mind.
Even if Joe Jordan egged him on during the incident (which he totally did), you have to be able to keep your cool. The whole point of trash talk is to get the other team off its game and when guys are reacting like that, you know you've done your job!
What do you think: Should UEFA slap on another game or two to Gattuso's suspension, or leave it alone?
What a start to the round of 16!