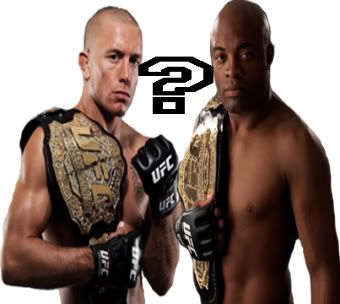 If everything goes to plan at the end of April, a lot of fight fans will finally get their wish…
Georges St. Pierre will defend his welterweight crown against Jake Shields in front of a
record crowd
at UFC 129 on April 30th. Should he win, organization president Dana White has promised a tilt between GSP and middleweight champ Anderson Silva – a
"dream fight"
that would go a long way in determining the outright best pound-for-pound fighter in MMA.
Silva is coming off a solid victory over fellow Brazilian Vitor Belfort and if St. Pierre can get past Shields, both fighters will have basically cleaned out their divisions. For this fight to happen though, GSP will have to give up his title and move up to 185-pounds (from 170), a challenge in itself.
So the question is: When the fight is over, whose arm will be raised?
While I think it'll be St. Pierre, the experts I talked to all see things differently! Kid Nate from SB Nation's
Bloody Elbow
seems to speak for everyone I spoke to when he says that "Silva has to be favored because of the size and reach advantage, but GSP has a shot due to his brilliant wrestling."
Dave Stanford, the executive editor of
MMACanada.net
, thinks the weight differential will be too much for GSP to overcome. With St. Pierre walking around at about 185 pounds to Silva's 210-220, Stanford says we could be looking at a weight advantage of over twenty pounds here!
"The 'x factor' would be how GSP is able to handle the size difference with Silva, as he could end up being tossed around the cage by a much larger man."
MMA Crypt's
Misfit takes it a step further by suggesting that the Canadian deserves the fight, but should probably get a few others under his belt at 185-pounds before he gets into the octagon with Silva.
"I would make Silva my third fight at 185, this way he could maybe add five legit pounds between each fight. Silva is a huge middleweight and GSP will be a small [one], so as much legit size as he can add will only help."
If we do eventually get to see this fight, it'll be one of the most bruising chess matches we'll likely ever witness. For me it's tough to think of a fighter who trains as well as St. Pierre does to find and target the weaknesses of his opponents. In Silva, we've got a guy who is probably the best and most dangerous striker the sport has ever seen.
"Silva is a master of all facets of the stand-up game who has the uncanny ability to finish a fight at any moment from any position," says Stanford, a point the Brazilian proved two fights ago against Chael Sonnen. "Silva would need to pay particular attention to improving his takedown defense [though], so as to not end up on his back the way he did against Sonnen."
GSP is widely regarded as one of the game's best wrestlers and takedown artists, but what he seems to lack is the ability to end fights, says Kid Nate.
[St. Pierre] is good on his feet, but his bread and butter is putting guys on their back and beating them up on the ground. Silva's take down defense is questionable and GSP's ability to finish elite fighters has [also] been questioned."
"Another plus for Silva is his amazing chin; he doesn't get hurt and GSP doesn't hurt a lot of fighters," adds Misfit. "GSP beats them up but doesn't hurt them a whole lot."
As a Canadian kid pulling for his country's top fighter, I had to ask these guys how St. Pierre should prepare for "The Spider" – you know, just in case he happens to stumble upon this article sometime!
Kid Nate says figuring out a game plan will be tough for both guys because of the unique abilities that each one possesses.
"GSP should train with the very best lanky left-handed strikers he can find and Silva needs to train his ground game in anticipation of being taken down. [Something to watch for] is whether or not age is slowing Silva down. He's 35 and his style is based on speed. Historically those kind of fighters get old overnight (think Roy Jones Jr. in boxing)."
If St. Pierre is to win this one, MMA Canada's Stanford says it'll all come down to getting comfortable at that new weight and then going back to what got him to this point in his career.
"GSP should worry about packing on a significant amount of muscle were he to fight Silva, and his focus should be on closing the distance so as to be able to get past Silva's reach in order to take him down and ground and pound his way to victory."
"He is one of the smartest game fighters when it comes to executing his strategy in a fight."
Adding muscle is always a tough thing to do though, which is why MMA Crypt's Misfit is strong in his belief that this fight shouldn't happen right away.
"The reason I would do it over three camps is so [St. Pierre] can get used to carrying the weight in stages," he says. "If I were Silva, I wouldn't worry about GSP's striking cause I don't feel he can hurt him, but I would spend a lot of time with wrestlers on top of me."
So my stable of MMA experts seems to give this one to Anderson Silva – he's big, strong and precise when he decides that he want to inflict some damage. Despite that, I still think people are underestimating what St. Pierre can do. Yes, he's had trouble finishing fighters, but did you see Josh Koscheck's face after a few rounds with Rush? That fight was a great example of St. Pierre switching up his style and beating a guy at his own game.
With added muscle comes added strength, and when you combine that with the strategy and the game plan that his camp will be formulating, I think you'll see a bigger threat than most anticipate. That said, Silva found a way to win against Chael Sonnen two fights ago and he booted Vitor Belfort's head into next year in his last fight. The guy is a proven winner and luck has little to do with his results.
This potential fight has the potential to be one of those classic moments in sports where a true champion is crowned - just the thought of watching these two soldiers go to battle makes me wish the fight was tomorrow, but alas, we're not there yet.
Since opinions are like eyebrows, I'd like to know what you think: If he tops Jake Shields, will Georges St. Pierre be able to beat Anderson Silva in a middleweight bout? Why or why not?