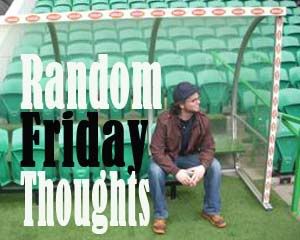 What's in a Name?
It's been four days since Fernando Torres
made headlines
in the soccer world by moving from Liverpool to Chelsea on a record breaking transfer, and while he gets ready to face his old club on Sunday, one Liverpool fan is mourning his team's loss more than any other…
His name? Fernando Torres McCormark.
This Is Scunthorpe
says the man, formerly known as Shaun McCormark, changed his name in December to honor his favorite team's best player. Now he is left with a tough decision: does he stick with his club and get his name changed to something else, or does he follow Torres and become a Chelsea supporter?
"I am considering what to do. I've not yet decided whether [or not] to change my name," he tells TIS, who say it cost him £13.39 to swap his name. "He is the best thing that has ever happened to Liverpool FC. I also chose the name because I never liked the name Shaun and it never felt right."
I wonder if any Edmontonians named their kid Wayne in the mid-1980's only to be doubly heartbroken on August 9th, 1988…
UFC Dream Fight?
It looks like we'll never get to see Floyd Mayweather Jr. get into the ring with Manny Pacquiao, but there's another "dream fight" that could be in the works!
UFC president Dana White
got fans talking
this week when he hinted at a possible fight between Middleweight champion Anderson Silva and Welterweight champ George St. Pierre. The Canadian is just coming off another title defense and will put his belt on the line in April once again, while Silva faces Vitor Belfort on Saturday at UFC 126.
White says if both guys win their next fights, he'd like to make it happen, saying "I think it's time."
If you're familiar at all with these two, you'll know that they have both dominated their weight classes for some time now and that this is a fight that has been talked/dreamed about for ages.
St. Pierre would probably go up in weight for the fight and TSN says the Montrealer has stated that he would stay at 185-pounds rather than have his weight go up and down. It makes sense that he'd eventually move into another weight class after basically running the table on the welterweight division of the UFC.
White says GSP/Silva could even happen before the end of the year! Wouldn't that be unreal?
Sabres to the 'Peg
Sorry Winnipeg, cruel joke.
Buffalo Sabres majority owner Tom Golisano has reportedly agreed to
sell his stake
in the team to Pennsylvania businessman Terry Pegula – a $189-million deal that includes a clause that says the team cannot be moved.
Some reports say Golisano turned down a lot more money to secure a deal that would keep the team in Buffalo, which should make hockey fans in that city happy!
Before he gets out of the ownership game though, I think the NHL should ask for his help. He decided he wanted to sell, he found a buyer and he completed the transaction. The NHL has been trying to sell the Phoenix Coyotes for how long now?
The latest on that situation has Commissioner Gary Bettman saying "
time is getting short
" when asked about the potential sale of the team to Matt Hulsizer. I wonder if the Coyotes will ever have an owner?
Cam You Believe That?!
The Carolina Hurricanes lost 3-0 to the Toronto Maple Leafs on Thursday night, but it could have been more!
Did you see the save that Cam Ward made on Toronto's Tim Brent?
Why was he an All-Star again?