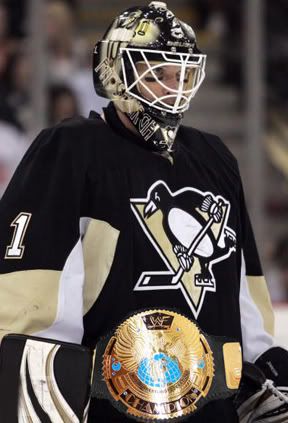 It's been a feisty couple of weeks in the National Hockey League, hasn't it?
If you thought those first three games were good, just wait until you see what went down at the Nassau Veterans Memorial Coliseum on Friday!
After being shutout in the game that saw Penguins backup Brent Johnson break the face of their oft-injured goalie, Rick DiPietro, the Islanders were charged up heading into the rematch! In the first period alone there were four goals, a failed penalty shot, two fights and some hints of what was to come later on.
By the end of the night there were 346 penalty minutes, fifteen fighting majors, eleven game misconducts, and ten 10-minute misconducts. Oh, and 12 goals.
Getting away from the fights for just one second here, with the Isles putting up a nine-spot on the Pens there were obviously a few things worth mentioning other than the bouts: John Tavares had a goal (with his chinstrap undone) and four points as he, Michael Grabner and Matt Moulson all became 20-goal scorers on the evening. Grabner missed on that penalty shot but recovered to score twice and collect three points, as did Moulson, giving both players 21 goals on the year.
A player by the name of Michael Haley is the ultimate segue here: He scored a beauty for his first career NHL goal and collected three fighting majors (and 39 total penalty minutes) before being tossed near the end of the game!
There were a couple of troubling moments in this one though too, like a Matt Martin sucker punch on Penguins forward Max Talbot early in the second period. As the two skated up the ice, away from the play, Martin had a quick look around and dropped his mitts before trying to clock Talbot from the side. I realize it wasn't as damaging as another
infamous sucker punch
, but it could easily have been much worse:
This next series of fights was a bit troubling as well – it all began after a Trevor Gillies hit to the head of Pens forward Eric Tangradi along the boards and the action ended with Haley squaring off with Brent Johnson (and Eric Godard leaving the bench to join in)!
I'm not sure what Godard was thinking – Johnson was a willing participant and broke a face the last time he fought! Oh, and there's the issue of rule 70.10 in the
NHL handbook
:
"The first player to leave the players' or penalty bench during an altercation or for the purpose of starting an altercation from either or both teams shall be suspended automatically without pay for the next ten (10) regular League and/or Play-off games of his team."
So it looks like Godard will sit for a while, but who else will be suspended? I think there's a chance that Martin and Gillies could both sit as a result of their actions in this game. What do you think?
If you're enjoying this latest stretch of thuggery from the likes of the Islanders and the Boston Bruins, I've got (potentially) great news for you: They play each other next Thursday and again in March!