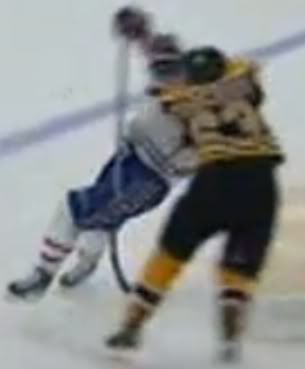 The Boston Bruins absolutely annihilated the Montreal Canadiens 7-0 at the TD Garden in Bean town on Thursday night, the first time the division rivals met since the Zdeno Chara/Max Pacioretty incident.
Seems fitting then, that there would be another semi-questionable hit for us to talk about afterwards, doesn't it?
A quick scan of the post game articles and comments from around the interweb doesn't seem to show many mentions of a Brad Marchand hit on Scott Gomez in the third period, but it's a hit that I'm sure the NHL will at least take another look at. With about 7:25 to go in what was then a 6-0 game, Marchand goes high on Gomez in the neutral zone, sending him flying and earning himself a roughing penalty. To me, it's a hit that could easily be racked up as another headshot on Marchand's resume and, given that he was just suspended for one, could easily result in another ban.
Then again a lot of people are just as quick to call it a completely clean hit, Marchand included – here's what he told
NESN
:
"I didn't even think it was a penalty, let alone something to be worried about. As far as I know, it's a good hit."
Here's what happened: A puck-carrying Gomez enters the neutral zone with Marchand in front of him, skating backwards. As Gomez crosses the red line, Marchand stops and prepares to stand him up before delivering what appears to be a high hit that sends the Habs forward flying (though he gets up right away and continues playing). Watching the replay, it looks to me like Marchand made contact with the head of Gomez. Have a look for yourself:
If it was a shot to the head, and to me it was, should Marchand get a call from the league?
When Trevor Gillies laid that dirty hit on Cal Clutterbuck in his first game back from a long suspension, the NHL got serious with him. Marchand was playing in his second game since missing two for an elbow to the head of Columbus forward RJ Umberger – should that be a factor?
If he were to get suspended for this hit, it would be two suspensions in pretty short order for a hit to the head. Wouldn't it be ironic if he earned a bit of a reputation for this type of thing, given
what he had to say
after Matt Cooke laid out his latest victim?
"He's got to be taught a lesson. He's doing that stuff left, right, and center. I expect that he'll probably get a bunch of games, but he's got to be taught a lesson. You can't be running around doing that stuff all the time."
I've noticed that there are a lot of people who seem to think that this is a clean hit and it would be a joke if the league sent Marchand a message by banning him. The thing about that is, to get rid of headshots, you have to be tough on them whenever you see them. You can't suspend a guy for one headshot and then a week later not suspend him for another one.
In this case, I think we're seeing a clear blow to the face by a guy who is just coming off a suspension for an elbow to the back of another guy's head. He should get at least a phone call and a fine, and at most, a 2-3 game suspension.
What do you think: Should the league fine or suspend Brad Marchand for his hit on Scott Gomez? Leave me a comment and let me know!