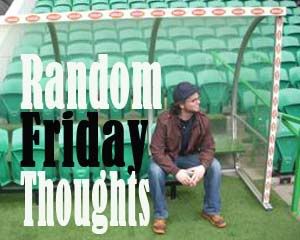 Football to Football for Ochocinco?
Now that the NFL has officially locked out its players, one guy is putting football aside to try his hand at…football!
Cincinnati Bengals receiver Chad Ochocinco is taking this opportunity to give a childhood passion of his another go, suiting up for a four-day trial with Major League Soccer's Sporting Kansas City. Yes, the man who once raced (and beat) a horse is now trying to make it in soccer!
Here's the crazy part: Terez Paylor of the
Kansas City Star
says he's actually a pretty good player!
According to reports, his first day on the pitch didn't blow anyone away, but as he works off the rust and gets more comfortable, Ochocinco is starting to look like he belongs out there. Coach Peter Vermes commented afterwards that he's "alright" at some things and "far behind" at others, but either way they'll probably decide this weekend what to do with him.
If he's good enough to play at the MLS level, you've got to think that KC will take a chance on him, even if it's just a ploy to sell a few more tickets and get a bit more attention directed at the team. If he couldn't actually play, it would be a different story, but it sounds like he could maybe be a pretty decent addition to the club!
Should Sporting KC take a chance on Chad Ochocinco?
The Next Gizmo?
While it's completely too early to call him the next Henry "Gizmo" Williams, the Edmonton Eskimos may have that next superstar on their roster!
His name is Brandon James and he's a 5-foot-7, 176-pound kick return specialist out of the University of Florida. I could go on and on about the SEC records he set and the national title in 2007, but lets get right to what matters – the video evidence:
Does he not remind you of Gizmo? If that video package is anything to go by, the Esks are gaining a player who could be a game-changer anytime he gets between the white lines.
After a tough couple of seasons, wouldn't it be nice to have a guy like that come in and be a star?
What a Strike!
Nashville Predators defenceman Ryan Suter looked more like Ryan Giggs on Thursday night in a win over the Anaheim Ducks…
With less than 30 seconds to go in the game, the Ducks made it 5-4 when Corey Perry floated the puck into the slot and Suter tried to kick it over the net. I say "tried to," because he ends up putting it bar-and-in on Pekka Rinne!
Maybe next time he should try a bicycle kick!
Sir Alex vs. The BBC
Did you know that it's been six years since Manchester United manager Sir Alex Ferguson gave any post game love to the BBC?
Yes, there are rules that say you have to speak to the media after your team leaves the pitch, but Fergie has ignored that and instead accepted fines for that whole stretch! What has him all riled up?
The Daily Mail
says it has something to do with a BBC3 documentary from back in 2004 about his son Jason, who is a football agent.
No one seems to be quite sure what it was about that documentary that set Ferguson off, but whatever it was, he has been demanding an apology this whole time. Whether or not he gets it is yet to be seen – there isn't even a date set for this meeting, which was organized by EPL chairman Sir Dave Richards.
You've got to admire the stubbornness of Sir Alex on this one – six years is a long time to hold a grudge!
The teams want a complete pay-TV package and are demanding the government pull back on a law that guarantees one game per week on free television. The clubs say they need the extra cash, so it's pay-TV or bust!
Other stuff…
Remember when Qatar was awarded the 2022 World Cup and there was all that worry over the scorching hot summer temperatures? Scientists there have invented
artificial clouds
to keep things cool!
Things went from bad to worse for Mario Balotelli in the past few weeks – first there were the
pinny problems
and a red card, now he's been dropped from the
Italian national team
!