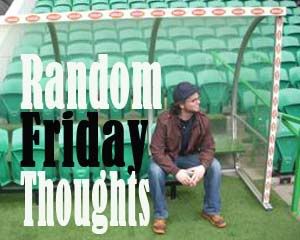 Chumpions League?
We all expected a show, and boy did we get one this week - the latest clash between Spanish giants Barcelona and Real Madrid was so good, the fireworks are still flying days later!
If you missed it: the first leg of their Champions League semifinal featured sideline scuffles, fouls (and dives) and a straight red card, which was followed by a pair of magnificent goals to give Barca a 2-0 road win. Leo Messi was the star of the game, but it was Real Madrid coach Jose Mourinho stealing the show afterwards!
"The Special One" was all wound up about the Pepe red card in the 61st minute of what was then a 0-0 game. The Brazilian defender lunged for the ball with his studs up and appeared to clip Barca's Dani Alves, who had to be taken off on a stretcher, but we'll get to the foul itself in a moment.
Mourinho went on a
post-match tirade
, pointing out that Barcelona quite often end up playing against 10 men in big games, and wondering aloud if it's to "give more publicity to [shirt sponsor] UNICEF." The Madrid coach went on to say that Pep Guardiola has already won a scandal-tainted Champions League and if Barca goes on to win again this year, it'll be more of the same.
As for the foul that saw Pepe sent off – a video posted on the Real Madrid website on Thursday might make you feel for Mourinho a little bit. It appears to show absolutely NO contact being made between the foot of Pepe and the shin of Alves, who is seen going to ground, wincing on a stretcher and then walking back onto the field moments later (Pepe "foul" at 1:29).
For their part, Barcelona have
launched a complaint
to UEFA about Mourinho's comments and the governing body of soccer in Europe is looking into the situation.
While I know both sides are definitely guilty of regularly trying to deceive refs by diving, I do think that the home side was kind of ripped off on Wednesday. The red card to Pepe was a game-changer, and it looks as though it was nothing more than an elaborate dive by Dani Alves that tricked the ref.
Wouldn't it be cool if UEFA took the red from Pepe and gave it to Alves based on the video evidence?
Sore Loser?
If you think Jose Mourinho is bad, at least he knows how to use his words!
After a 4-0 defeat last week, Danish club Randers FC fired their coach, claiming it was because of the "
poor result
." The pink slip (
do people still give those out?
) also happened to come a day after Ove Christensen hit a reporter for asking "stupid questions" though, which might also have contributed to the decision!
Isn't that a funny exchange? The reporter asks the coach why he hit him and he replies "Because you did so well, I gave you a pat on the shoulder, I thought you were really good."
Classic!
King of the Hillis
A new face will grace the cover of
Madden 12
when it comes out in August, and it's a face you might not be all too familiar with!
Cleveland Browns running back Peyton Hillis beat out Michael Vick in the final of the ESPN bracket-style contest that saw almost 13 million votes cast by the time all was said and done. If you don't know Hillis, he's a six-foot-one, 240-pound machine who has been known to literally jump right over top of approaching opponents!
Hillis ran for six touchdowns and just shy of 400 yards with the Denver Broncos over the first two seasons of his NFL career, before exploding for 1,177 yards and 11 majors last year in Cleveland, his first season as a starter.
Hillis says he's not afraid of the "Madden Curse" and can't wait to prove people wrong.
Other stuff…
After going a perfect 8-for-8 in the opening round of the NHL playoffs, the fine people over at
EA Sports
are out with their next set of picks. See how those picks differ from mine by clicking
here
!
Amid all the unknowns about the Phoenix Coyotes at the moment are
two solid truths
: The team is still losing big money, and Glendale is on the hook for most of it!
A Dutch soccer club signed a one-year-old to a
decade long pro contract
this week…because of a viral video that shows the kid kicking some balls into a toy box!