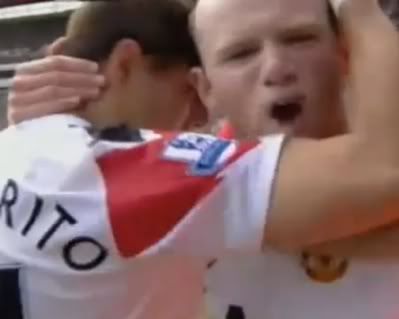 Sometimes I wonder just how detached the higher-ups in pro sports actually are from the game itself, don't you?
Perhaps the worst sport for that is soccer, and this weekend gave us another glimpse into that side of things. Quite often you'll hear about a manager being suspended for something silly like swearing on the sidelines while arguing a call, for example. Of course you want your players and coaches to be respectful, but it's a bit harsh to ban someone for colorful language, given how often it is used in pro sports, or sports in general!
The latest victim of this scenario is Manchester United striker
Wayne Rooney
.
With United down 2-0 to West Ham this past Saturday, Rooney scored three goals in 14 minutes on the way to a 4-2 win. It was his actions after his hat trick snipe that may land him in some trouble though! After Rooney calmly slotted home a PK in the 79th minute, he celebrated by somewhat inaudibly swearing at a TV camera as he was mobbed by teammates.
"[Expletive] come on! What! [Expletive] off!"
What a way to celebrate your 101st career goal eh? That said, I can understand the emotion of a road game from a player who has had a trouble-filled season so far. In fact, I like to see that kind of emotion from players. When a guy scores three goals in less than 15 minutes to rescue his team though, I kind of expect a smile at least!
That's got some people wondering, why are you so mad Wayne?
The Daily Mail's
Martin Samuel
says the worst part of that display was the "total absence of joy, of fun, of love for the game" in Rooney's demeanor. He says football in general seems to be "locked in a cycle of violence" at the moment and everyone just seems angry all the time.
"If they hate it so much, why go?"
For the record, Rooney said he was sorry after the game, likely after a bit of a talking to from his coaches.
"I want to apologize for any offence that may have been caused by my goal celebration, especially any parents or children that were watching. Emotions were running high, and on reflection, my heat of the moment reaction was inappropriate. It was not aimed at anyone in particular."
What do you think? If you watched the game, were you offended when Rooney appeared to swear right into your living room?