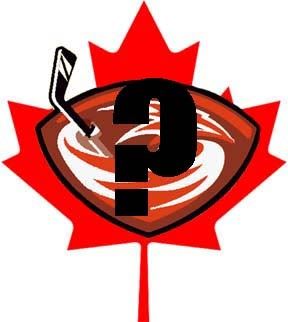 If you think hockey fans in Tampa, Boston, Vancouver and San Jose are stressed out at the moment, try living in Atlanta or Winnipeg!
While fans in four of those cities pray for a shot at the Stanley Cup, those in the remaining two are left to wonder whether or not there will be any NHL hockey in their city come next season. With the ownership situation in Atlanta coming to a head this spring, it looks like it'll come down to one of these two scenarios: either a local buyer saves the Thrashers in the next few weeks, or the team moves to Winnipeg.
Proponents of a seventh Canadian NHL club are jumping all over the news this week that True North has reportedly begun
formal negotiations
with the Atlanta Spirit and that the NHL is drafting a
"backup" schedule
incase the team does move. Some pundits are even going as far as saying that it's now
only a matter of time
before the team is calling the MTS Centre home...but what about Thrashers fans?
Matthew Gunning of
Bird Watchers Anonymous
has been following the team closely since it came to be in 1999 and says he believes the Thrashers could thrive in Atlanta with the right ownership.
From the outside looking in it seems the sport just isn't working in that city, but Gunning says it all starts at the top.
"If the Thrashers were to depart Atlanta, the thing that makes me most frustrated is that we never got a chance to see what NHL hockey could do in this market," he says. "When Time-Warner owned the team, the payroll barely broke $20-million while top teams were spending close to $70-million per season. It was basically [Ilya] Kovalchuk, [Dany] Heatley and a bunch of bargain-bin roster filler players."
After the lockout, Thrashers fans were treated to an ownership group that spent to the salary cap maximum, but it didn't last long – the team is now back to spending close to the minimum required by the CBA. Fans have seen a lot of elite players come and go over the years and Gunning says that has left them feeling "numb" and angry with an ownership group that "never seemed to care much."
That may be a better way to explain the drop in attendance that the club has seen over the past four seasons. They've gone from over 16,200 fans per game in 2006-07 to just under 13,500 this past year. How do you get those fans back? Gunning says all the owners have to do is show people that they're committed to winning!
"There are many NHL fans in Atlanta who still root for the teams they grew up with [and] those fans will only be converted to Thrashers fans if the owners give them a team to get excited about," Gunning says, noting that Atlanta has only made the playoffs once in eleven seasons. "To win, the new ownership would need to raise payroll from the cap floor to the cap midpoint, [which] would give the GM the room to add a few quality veteran players."
If I were a hockey fan in Atlanta, the hardest part about all of this for me would be the fact that the Thrashers are clearly a team on the rise at the moment. It seems like they have a few exciting young players at pretty much every position and they could be just a couple of key acquisitions away from being able to take that next step.
Another difficult thing to deal with in this day in age for Thrashers fans, and Phoenix Coyotes fans before them, is the fact that trash talk from the city that wants your team is only a click away!
"Winnipeg fans have been arrogant, condescending and often rude so I don't take kindly to such comments," says Gunning. "I was an NHL fan going back to the 1980s [and] when the Jets and the Nordiques left Canada I thought it was a terrible thing – apparently some Winnipeggers have short memories."
From the perspective of a guy from Michigan who is now living in Georgia, Atlanta's appetite for hockey isn't the problem, it's that there are three other pro sports teams all vying for attention and people want to watch a winner.
Gunning says if another hockey team leaves the city though, "the NHL is dead forever in the Atlanta market."
What do you think: After seeing things through the eyes of a Thrashers fan, are you still hoping the team moves to Winnipeg this offseason?