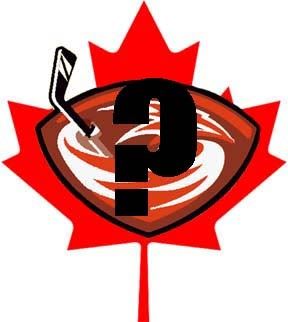 Whether it happens today, tomorrow or the next day, it seems like it's just a matter of time until the city of Atlanta loses its NHL club for the second time.
Reports have been flying back and fourth since late last week that a deal was in place between True North Sports & Entertainment and the group that owns the Atlanta Thrashers, but as of right this second, nothing has been confirmed. That's not to say they're not working on something – there's just nothing confirmed at the moment.
I wouldn't put a deposit down on those Thrashers season tickets though, especially not after what Atlanta Mayor Kasim Reed had to say earlier this week!
Reed ramped up the speculation with some comments to a local NBC affiliate on Tuesday where he talked about losing the team and the difficulties they had in finding a local buyer (via
TSN
):
"We have not yet had any of the individuals in our community prepared to [buy the team], but it's not for a lack of trying. Anytime we lose a major sports franchise, it's tough. It's going to hurt the city, but we'll withstand it and get through it. We have a lot of positive things going on in the sports franchise space that we'll be announcing soon."
While Reed sounds like he has accepted the fate of the team, others aren't taking the potential loss lying down.
Atlanta Journal-Constitution
columnist Jeff Schultz is one of many who took offence to something that NHL commissioner Gary Bettman had to say recently: He's blaming the fans for the financial struggles of the team!
Bettman basically said that Atlanta fans should have kept on buying tickets, even though the team's owners wouldn't spend any serious money to put a competitive product on the ice. We're talking about a team here that at one point had a payroll of $20-million and has spent close to the floor of the salary cap just about every season since the lockout.
Schultz wonders if that's a mentality we should apply to other aspects of our lives – for example, if you eat at a crummy restaurant and get sick from the food, should you continue to support that business by going back every week? Oh, and next time, should you bring friends?
He also points out that the city's other pro teams have had their attendance troubles over the years, but one thing has always brought the fans back: winning.
How do you win? You spend money. Whether that means buying up free agents, or making sure you can keep the players you drafted, you need to have an owner who is willing to spend money. Sure, throwing cash around doesn't guarantee success, but pinching pennies certainly doesn't help.
Will the city of Atlanta lose the Thrashers? From what I've seen, heard and read over the past week or so, I'm going to say yes. Do hockey fans in the ATL deserve to lose their team? No – I honestly believe they fell victim to another case of bad ownership.
What do you think: Who is to blame in Atlanta, the fans or the owners?