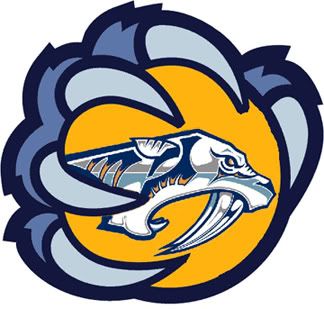 Forget Vince Young – there are a couple of new Titans in Tennessee!
The NHL's Nashville Predators and the NBA's Memphis Grizzlies aren't quite "deep" into the playoffs in their respective leagues yet, but they're both further than they've ever been before, simultaneously capturing the imagination of sports fans in the Volunteer state.
The Predators finally managed to shake their first-round jitters this season and win a playoff series, beating the Anaheim Ducks in six games about a week ago. Just five days later and a few hours down the road, the Memphis Grizzlies closed out their opening round series with the San Antonio Spurs, also in six games! Not only was it the first series win for the team that originated in Vancouver, it was also just the fourth time in NBA history that a number eight seed knocked off a number one!
Not a bad time to be a sports fan in Tennessee eh?
The Preds arrived home on Sunday to
a hero's welcome
after rebounding from a disappointing game one with a 2-1 overtime win on Saturday night, earning a split of the opening two tilts. Fans crammed into Nashville Airport and went crazy when the team came strolling out, going especially nuts when Pekka Rinne came into sight. That type of passion from the fans is infectious and could end up going a long way for the Preds, who can make a real statement on Tuesday with a win on home ice.
As for the Grizzlies, it was obviously a fluke that they beat the Spurs and so far they've been totally outmatched by the Oklahoma City Thunder in the second round of the NBA playoffs.
Just kidding: Zach Randolph had a game-high 34 points along with 10 rebounds and Marc Gasol went 9-for-11 with 20 points and 13 boards as the Grizz beat the Thunder by 13 points in OKC! They're now in position to go up by two games before they head back to Memphis, which has the fans back home out-of-this-world excited.
Is this the greatest month in the history of Tennessee pro sports? Some, like Frank Murtaugh of the
Memphis Flyer
, say absolutely! Is there a legitimate chance that both clubs are still playing into the month of June?
I'd say it's unlikely that both of them make it that far, but if guys like Rinne and Randolph keep it up for their respective teams, you just never know!