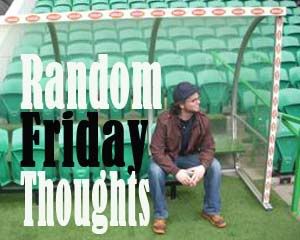 Latest on the ATL
It's been an interesting week on the Atlanta Thrashers front, to say the least, with more rumors, more denials and a few other curveballs being thrown about.
Reports are still popping up that a deal is almost done to send the Thrashers to Winnipeg for $170-million, which includes a relocation fee of $60-million. At the same time though, NHL commissioner Gary Bettman came out this week and told us all to "take a deep breath and pause," when it comes to our presumptions about the potential deal.
Bettman took a strange tone with a Florida radio station, obviously upset that people won't stop speculating about the situation, saying (via
SLAM! Sports
):
"Nobody has announced anything and frankly, if there is something going on, nothing is going to actually happen until it actually happens, which means it may not happen."
Okay, so what you're saying is, unless it doesn't happen, it might still happen, so we should just wait until it happens before we start talking about whether or not it will happen? Gotcha.
Amid all of that stuff came talk from a former NHL player who says his group tried to buy the team, but the Atlanta Spirit Group was too busy infighting to give them any serious consideration!
11Alive News
reports that Atlanta Sports and Entertainment, led by former Oiler Anson Carter, made a preliminary non-binding offer to buy the team, but a rift between ASG investors caused the deal to go by the wayside. The report says the group would have kept the team playing out of Philips Arena, but they've now moved on to other markets.
If there is an announcement coming about the Thrashers it likely won't happen until next week, which is when we can finally turn our attention to more important issues, like which of the league's other troubled franchises will
end up in Seattle
.
Tattoos & Titles
Before you smack the person that will inevitably tell you this weekend that they totally picked the Dallas Mavericks to make the NBA Final, you had better make sure that person isn't Jason Terry.
The Mavs guard not only called it before the season started, he took the highly unusual move of having his prediction
tattooed on his body
! That's right, Terry got the Larry O'Brien Trophy drawn on his right bicep a day before the team's preseason opener in Orlando.
As silly as that thing will look if the 33-year-old never wins a championship, just take a second to think about how awesome it will be if the Mavs come out on top this year! It'll be especially sweet for Terry and teammate Dirk Nowitzki if they do win it all, since they are the only two players left from the 2006 Finals loss to, you guessed it, the Miami Heat.
As for Miami, if there's one person outside of the team who is really pulling for a Heat victory, it's got to be the head of Nike.
Bloomberg
reports that an NBA championship for LeBron James would add a whopping $4-billion worth of extra revenue for the company in China alone!
A former marketing director for Nike in China says James is wildly popular in that country, but a lack of titles is really holding him back from attaining the "marketing might" of guys like Kobe Bryant and Michael Jordan.
Either way, this is setting up to be an intriguing series – somehow the Mavs have dominated the West, and the Heat have been unstoppable in the East. Who have you got?
Gumball 3000
Wondering what some of your favorite pro athletes and celebrities are up to this weekend? If they're among the coolest of the cool, they're probably taking part in the
Gumball 3000 Rally
!
The seven day, 3,000-mile race stretches across 10 European countries and features a total of 120 cars.
Among those participating
are NFLers Reggie Bush, Shawne Merriman and Ndamukong Suh, Olympic skiers Bode Miller and Jon Olsson and a whole host of celebs from across the entertainment world.
Does it sound like the coolest thing ever? That's probably because it is! For a better idea of just how awesome this race is, check out the
Denver Post
photo gallery!
One NFLer who isn't participating is Chad Ochocinco – but he's up to something else:
He's raced a horse, he's played soccer, he's ridden a bull…and now he's a
snake wrangler
?
Other stuff…
San Francisco Giants catcher
Buster Posey
broke a bone in his leg on a massive collision at home plate on Wednesday…
Drama in Argentina: The head of the country's football association admits that doping controls were "
done away with
" during qualifying for the 1994 World Cup…