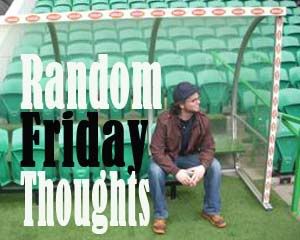 Recipe for Tweet-saster
Gilbert Arenas is the latest professional athlete to be reprimanded for something he posted on his personal Twitter account.
The NBA fined the Orlando Magic point guard for a tweet this past week, though they weren't specific about what it was that the controversial baller said or how much the fine was for. The
Orlando Sentinel
has a screen shot of Arenas' page that shows one comment where he jokes about "direct sexting," but the paper says the player has posted a "handful of politically incorrect and profane" tweets.
In response to the fine, Arenas was back on Twitter, saying if there's a lockout the NBA might just forget about it and that "it all evens itself out" because he's stealing cable from his neighbor!
After checking out some of his other tweets, I've got to say – this is an account
worth following
. Not only does he give a pair of shoes away each day, he is absolutely hilarious. On Thursday he was tweeting about a blind date he was on and even sent his followers a picture of the woman's ugly shirt ("imma call PETA to come get you")!
While the fine from the NBA stings, Arenas seems to be hurt more though by the fact that his account hasn't been "verified" yet by Twitter:
Something tells me this won't be Arenas' first and only fine for social media slip-ups!
Can't Stand the Heat
Former NBA player Charles Barkley is known for stirring the pot as a TV analyst, but it seems like he's working overtime on that front these days…
Barkley has been
all over the Miami Heat
, who are now down 3-2 to the Dallas Mavericks in the NBA Finals after another fourth quarter collapse on Thursday night. Earlier this week, the TNT announcer said the Heat annoy him, after calling them a "whiny bunch" earlier in the playoffs. On Wednesday, he took aim at the fans, saying Miami has "the worst fans, no question." He says it's "not even loud" at AmericanAirlines Arena in Miami, which seemed to strike a chord with Heat fans – TNT had to move their pregame show from outside the arena to inside!
Speaking of Charles Barkley, he told reporters on Thursday that he's thinking about playing
left-handed
at the American Century Celebrity Golf Championship at Lake Tahoe in mid-July. The notoriously horrid golfer says "it can't be worse" than his current set up…and if you think that's an exaggeration, check out his swing:
If you're wondering how he usually does at Lake Tahoe – he's a perennial last-place finisher.
Friday Fail
There's no better way to wrap up the week than to watch a whole bunch of people mess up a sure thing – so here is a video of some of the worst soccer misses of the 2010-11 season!
Wow.
Other stuff…
Allen Iverson
says he wants another shot at the NBA…but is it too late?
Could troubled former Ohio State quarterback
Terrelle Pryor
end up in the CFL?