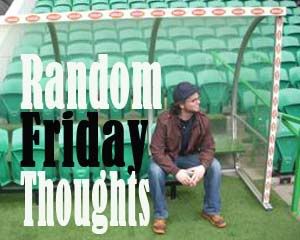 A Bug's Life
Are you scared of bugs?
It's okay, it's just you and I talking here, I won't tell anyone. Would you jump if you turned around right now and saw a big spider scampering up the wall? Let's take it a step further – would you involuntarily take action if you looked down and a big creepy crawly was making its way up your leg, or would you just calmly flick it away? I know for a fact that I'm making some of you uncomfortable by just mentioning the possibility that a big slimy bug might be preparing to lunge towards you at this very moment…but that's because you're not answering my question!
I'm somewhere in the middle when it comes to bugs – not a huge fan, but not terrified of them. That said, if I ever wind up in a situation like the one that Florida Marlins left fielder Logan Morrison found himself in this week, I don't think I'd want a camera filming me!
According to the
Palm Beach Post
, Morrison approached a praying mantis that had taken over the Marlins dugout late in a win over the Nationals…and it attacked!
As funny as Morrison's reaction is to watch, I bet most of us would react the exact same way! Do you have any bad bug stories?
He puts the "Rob" in Roberto!
Roberto Alomar's induction into the Hall of Fame as a member of the Toronto Blue Jays made for quite a nostalgic week for Canadian baseball fans this week.
It was
especially memorable
for one fan who showed up to the parade portion of the induction ceremony with a brand new replica Blue Jays jersey and a camera, and left with only one of those things:
I love the title of the video: "Alomar Borrows My Shirt." No man, he stole your shirt. Straight up!
Here's my question though – would you be rattled if that was your jersey he took? I mean, I had the guy's poster on my wall for years as a kid…but he's probably got plenty of jerseys and plenty of money!
Is Jeremy Roenick The Man?
Well, is he?
If your immediate reaction is "no," here's something that might change your mind: a video from a charity golf tournament where Roenick lets a fan crack him in the chin…for fun!
I wish we could get a bit of context here – what could possibly have led to JR saying to this guy "why don't you punch me in the face about it?"
Is there a pro athlete you wish you could take a free shot at?
Other stuff…
Now that the NFL lockout is over, it would probably be wise for players to take this quick refresher course on
navigating social media
…
Hilarity from
The Onion
- Yankees talking to several teams about Robinson Cano: "He's good and we're going to keep him."