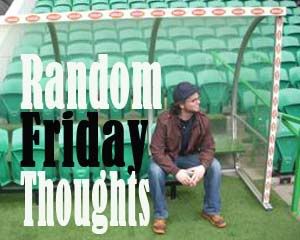 Out of Luck?
Once regarded as one of the best midfielders in the world, Owen Hargreaves is now unsure where, or when he'll play next.
The 30-year-old left his home in Calgary fourteen years ago to try his luck with German club Bayern Munich, a move that paid off greatly. He won four league titles and a Champions League medal with that club, before being sold for massive money to English giants Manchester United in 2007. There, he won another Champions League trophy in his first season at Old Trafford, along with an EPL title…but that is where his luck would end.
The England international developed tendonitis in his knee the following season, and after appearing in 34 games in 2007-08, he would feature just five times over the next three years. In fact, he lasted just five minutes in his lone appearance last season, with a hamstring injury as the culprit this time around.
Needless to say, Man U didn't offer Hargreaves a new contract this summer, but he's not taking it lying down!
Instead, he has launched a
YouTube channel
that features over twenty short videos of him doing various workouts, a lot of which focus on mobility. Not a bad idea, but will it be enough?
Toronto FC is among the clubs rumored to be interested in Hargreaves, and perhaps a return home to Canada would be a good thing for him. What do you think - should he keep pushing for the comeback, or should he just pack it in?
How Swede It Is
Still with soccer – players swapping jerseys after a game is pretty commonplace in the men's game, but did you see what happened at the Women's World Cup recently?
After a 1-0 win over North Korea, Swedish player Josefine Oqvist was talked into swapping shirts with a guy wearing a Germany jersey!
I've got to say – I've never seen that before!
Off Season Training
Pro athletes always talk about spending the summer in the gym getting ready for training camp…but have you ever wondered how they really train in the off season?
That last dangle is just straight up ridiculous!
Other stuff…
A Compton High School basketball player shows us all what a
great Guei
he is…
Remember the model that promised to strip if Paraguay won the World Cup? She says she'll strip
on the field
if they win the Copa America!
NBA lockout: After scooping up Nets guard Deron Williams, Turkish side Besiktas is reportedly pursuing none other than
Kobe Bryant
…