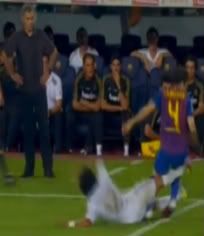 There's more footy drama in Spain, after another heated meeting of the country's top two teams!
Leo Messi scored twice for Barcelona on Wednesday in a 3-2 win over Real Madrid as his side claimed its third consecutive Spanish Supercup – but, of course, that's not what people are talking about today!
Barca newcomer Cesc Fabregas fell victim to an ugly challenge from Madrid defender Marcelo during the 94th minute, which resulted in a second yellow for the Brazilian and kicked off a "brawl" or a "huge melee" (depending on who you ask) between the two clubs!
Now, before you get too excited, keep in mind that the phrase "bench clearing brawl" means something a little bit different when we're talking about anything but hockey – in this case when the benches cleared, there was a lot of pushing and shoving and holding each other back, as players shouted insults back and fourth. Let's take a look, shall we?
In all the madness, Madrid's Mesut Ozil and Barcelona's David Villa were both shown red cards for whatever it is they did, but coach Jose Mourinho provided us with the most memorable moment of the fracas:
If you're wondering whether or not you saw that correctly – yes, it appears that Mourinho walks up and pinches Tito Vilanova's ear, before walking away and grinning like a crazy person!
What do you think: Does hearing about rivalries like this one make you want to tune in?