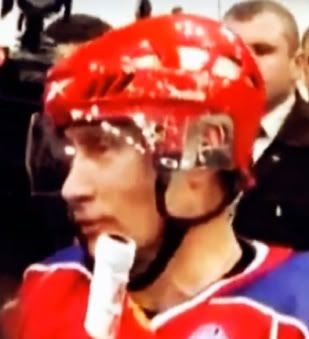 It's times like these that I wish that Wayne Gretzky were the Prime Minister of Canada.
Sure, he might not be great at balancing budgets or tackling the socio-economic issues facing the country, but he'd probably get the hang of it. At the very least, it would ensure another win for Canada if the rumors about another Summit Series are true!
This September marks the 40th anniversary of the 1972 Summit Series between Canada and the Soviet Union, and there will apparently be some kind of month-long celebration of the Cold War clash between the two nations. As part of that celebration, the
Toronto Star
reported this week that Prime Minister Stephen Harper would be facing off against Russian Prime Minister Vladimir Putin in a couple of exhibition games, which the PMO quickly denied.
Sounds cool, right?
Well…it would be, if we were talking about leaders like Wayne Gretzky and Vladislav Tretiak, or Joe Thornton and Pavel Datsyuk! Instead, we're talking about a Canadian who dropped out of hockey in his early teens and a Russian who only just recently picked up the sport.
I'm not sure who else would be on the rosters if these games did end up happening, but who would even want to see that? If you don't believe me that this game would be brutal to watch, check out this hilarious video of Putin doing his thing:
What do you think:
How should we commemorate the anniversary of the Summit Series?
(Hat tip to YouTube's WeatherWiseCDC for the video)