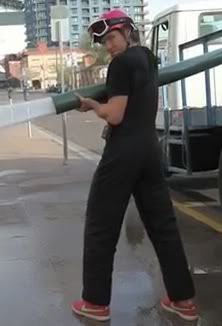 Say what you will about the internet, but it really is the gift that keeps on giving when it comes to viral videos!
Don't believe me? Fine. Be that way.
For those of you who
are
picking up what I'm throwing down though, I've got another batch of delicious internet awesomeness for you to check out. This week in "When Sports Go Viral," we've got a couple of pro athletes goofing off, an interesting dangle from the KHL's All-Star weekend and a highlight from the support staff!
Let's start with the latest viral video from Phoenix Suns star Steve Nash
– not content with playing in the NBA, Nash is apparently trying to convince ESPN to let him enter the Real Snow snowboard competition.
Check out Nash debuting The Corn Chopper:
Speaking of goofy pro athletes
, have you seen the latest video from pro golfer Ben Crane?
It turns out that golf wasn't his first love...
It's All-Star weekend in the NHL, which means another edition of the Skills Competition
. Do you think we'll see anything as creative as this dangle from Vladimir Tarasenko at the KHL Skills Contest?
Have you been watching the Australian Open?
If not, there is one highlight you need to see from the recent tilt between Rafael Nadal and Roger Federer:
What a snag!
Is there a viral video you'd like to see featured here?
Leave me a comment below!