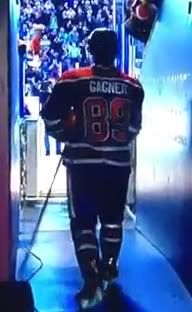 History was made at Rexall Place on Thursday night.
To say that Edmonton Oilers forward Sam Gagner joined some elite company with his performance in an 8-4 win over the Chicago Blackhawks is quite possibly the understatement of the century. With a four goal, four assist night, Gagner becomes just the third Oiler
ever
, behind the likes of Wayne Gretzky and Paul Coffey, to rack up eight points in a single game.
Eight points!
Not only did he Gagner have one of the best offensive nights in the long history of the NHL, but the Oilers battled back from down 2-0 to blast a team that had a 22-point lead on them in the Western Conference standings coming into the game.
There was a lot to celebrate for the Oilers in this one – a 43-save night for Devan Dubnyk, Jordan Eberle scoring his 20th of the year, Ryan Whitney netting his first and Cam Barker putting one in after being out since November with an ankle injury. But seriously – eight points?!
As
Puck Daddy's
Greg Wyshynski points out, Mario Lemieux had the last regular season and playoff eight-point night, which includes that amazing "five goals, five ways" game. If this one wasn't memorable enough for Gagner though, have a listen to who the Three Stars were:
When you were daydreaming in August about what this team might look like offensively, is this the type of thing you pictured? A young, talented, speedy club that could run and gun with the league's elite?
Play it again, Sam!